Continuing our journey of testing internationally lesser known, high-end brands, we will today look at Austrian Carinthia, a top quality maker which targets both military and civilian use, with a reputation for offering products of reliable, durable and very functional design. The company has been producing sleeping bags and clothes for low temperatures for nearly 70 years, and as a result their gear is popular among professionals, among military, hunters, survival specialists and other outdoors people, and used by e.g. the Swedish, Finnish, British, German and Dutch military, even being NATO approved, but commonly less known to the more general public as the brand is not on offer from most of the larger outdoors sites, although you can find them on Amazon.
For the US market, where the Carinthia brand itself can be difficult to find, it is good to know that Eberlestock has partnered with Carinthia and offers some of the Carinthia sleeping bags and tents under their own label and with their own names on the products.
The Carinthia product line includes sleeping systems, shelters and garments for climates ranging from tropic to arctic. All Carinthia's products are manufactured in Europe, in Austria, and in Slovakia and Moldova, and they offer Europe-wide delivery straight from their site. Having tested several of their sleeping bags and winter apparel over a longer period of time, this is the first review in a Carinthia series, and we will kick it off by looking at their High Insulation Garment (HIG) 3.
The HIG 3
The HIG 3.0 series of products was created in cooperation with Special Forces, looking to create a durable, light and robust set that would not restrict movement, be adaptable to different body types, and also be multifunctional, suitable for both cold and wet conditions.
Features
The features of the Carinthia High Insulation Garments (HIG) 3 are:
Jacket
3 direction adjustable hood, storable in collar
Ventilation zippers in the armpit & sides
Water repellent 2-Way-Front-Zipper with wind flap and chin guard
2 large outer pockets lined with termo fleece
1 Inner pocket
2 upper arm pockets with Velcro for attaching badges
1 small pocket on the left forearm
Adjustable, elastic drawcord at hem
Weight: 900g
Trousers
Elastic waistband with button closure
Water-repellent zippers
2-way leg zipper to hem, with wind flap
High-cut rear waist band
Large rear pocket
Ergonomic pre-shaped knees
Adjustable elastic drawcord at hem
Boot fixation hook
Reinforced inner leg area
Adjustable suspenders
Weight: 710g
The full set comes in four different colours: black, grey, sand and olive, and sizes ranging from Small to XXL.
Gore-Tex & G-Loft
The outer layer of this set is made from Gore-Tex, but since most people are already quite familiar with this material, I won't go deeper into it, instead talking about the G-Loft. This insulation mimics down, but unlike down it absorbs no moisture. Also ike down it is light and highly compressible, but still returns to true, not losing shape with being compressed and therefore no need to shake it to get it back into shape.
Overall, the set is designed to be adjusted with gloves on, or with the hands inside the chest pocket. The pants have an elastic waist that is secured with a large Canadian button. The sides of the pants have zippers on the outsides so you can put them on with boots on. And all zipper sliders have a flap so you can grab it even with thick gloves on.
Impressions
So, does Carinthia live up to the expectations I have built up from their strong reputation? Am I happy with the design and performance of the HIG 3.0 set? To that question, the answer is without doubt a resounding yes!
The quality of the materials is top notch, as is the attention to details. It is quite clear that the designs have been perfected with a lot of input from people who have used them and know what works and what doesn't. People who know how annoying those little awkward flaws get when you have to deal with them repeatedly every day when you are out and need things to be as hassle free as possible, with pockets offering easy access, zippers being easy to close and buttons easy to… button, etc, etc. All of this of course particularly true in cold and wet conditions.
A perfect example of this is how you can adjust the tightness of the hood by pulling and releasing drawcords placed inside of the large warming pockets on the chest, meaning there is no need to expose your hands to the cold as you adjust your hood.
Other examples of this are the high-cut rear waist band in the pants, protecting from a butt crack gap and cold air when kneeling down, the pre-shaped knees, the shoe fixation hook, the reinforcements on exposed areas like the inside of the legs, knees, elbows and not least the shoulders where the backpack harness will strain the fabrics of the jacket. All of it together adding up to very functional and annoyance-free garments.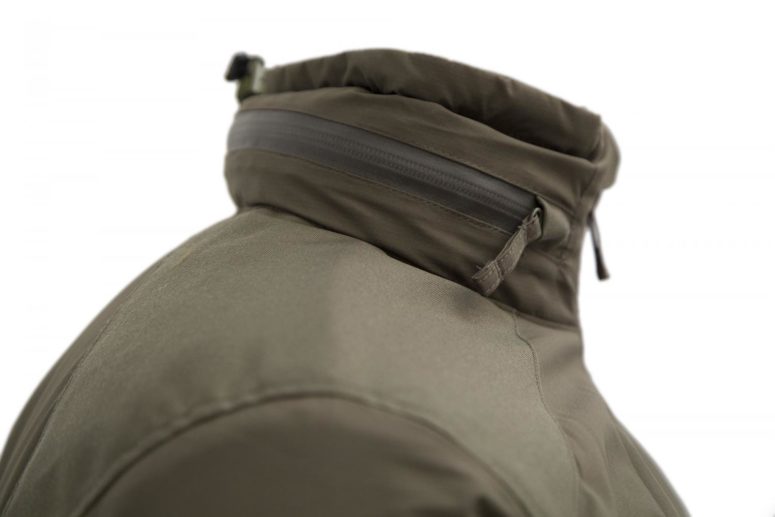 Also, as further proof of the attention to details, the stitches are perfectly clean and the decision to add strong rubber coated zippers is just excellent, as is the decision to add wind flaps underneath, on all zippers where it is needed, safeguarding both that there is no draft, nor any loss of body heat from exposure to the cold zippers.
The generous cut and the many options for adjusting certain parts of the set, the velcro suspenders in the pants, and the advanced adjustment system for the hood, assures a good fit that doesn't hinder your movement to any noticeable degree, something which is extremely important, not least with thicker clothing, and here again the very light insulation and fabrics are just lovely. With all this, the Carinthia set shines, with a winter jacket and pants that restrict you less than many summer outfits do.
Speaking of the hood, it is perhaps worth mentioning that it is not insulated and just offers protection from wind and rain. You will need a cap to keep your head warm. Likewise, when closed, the collar is too tight to wear a thick scarf, and even a shemagh can be too much depending on how you wear it.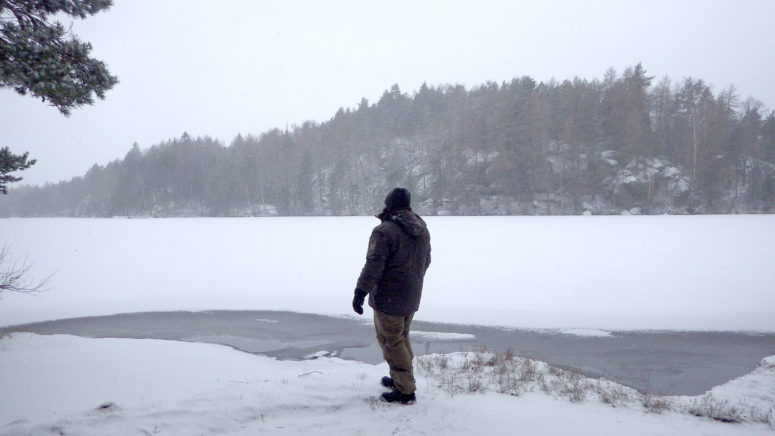 Comfortwise, it is just wonderful both in stationary situations as well as when moving and carrying heavy loads. The jacket's ventilation openings in the armpit are unusually long, stretching down over the sides down to the waist, and the pants' outside zippers have dual sliders and can also be opened from above for ventilation, meaning you can stay quite cool and not lose warmth due to sweat, when you stop for a bit of rest. In this, the dual slider on the front of the jacket is also great, since you can open it up from the bottom, ventilating and adding even more dexterity if needed.
Finally, the fact that both the jacket and pants come delivered both with a small bag and a compression bag so you can make sure it takes as little space as possible in your pack is just the perfect final touch from a maker clearly dedicated to perfecting their products. I only wish the straps were 4-way instead of 2-way, so I could compress them just a little more.
I really don't have a single complaint or wish for any changes in these garments, which is rather rare. The only idea I have is that it would be neat if the butt pocket was just a tad bigger and lower, so you could put extra insulation there for when you need to sit down on snow. It almost already works for that, but it is missing a few inches to work well.  So, summing up, the HIG 3.0 set lives up more than well to the great reputation of Carinthia, even beyond my sceptical expectations. Fantastic job, Carinthia!
Keep an eye open for our coming reviews of Carinthia's sleeping bag system and the Defence 4 & Defence 6.