Writing fair reviews can often be a bit difficult as it requires balancing your own personal preferences, needs and desires against both the designers'/makers' ambitions, and also against the more generic readers' need for an independent perspective. These three can at times be quite different and this is especially true for feature rich equipment like watches. Therefore, I think I should begin by trying to describe the things that I personally look for in a watch.
First of all, I want a watch that fits extreme outdoors as well as everyday use, meaning it has to be comfortable, look good and be reasonably discreet in an urban context, and still be capable of taking quite a beating.
Second, I want something I can always trust, both with the data it provides, and that it won't fail me when I need it the most, meaning it needs to have a certain build quality and I don't want it to unexpectedly run out of power. Ideally, I want it to be powered by kinetic or solar power, like my trusty old Seiko Kinetic Relay watch.
Third, I want my watch to be instantly readable, and I prefer to have analog hands as they can also be used for crude navigation, if I ever find myself without a working compass.
Now, how does today's watch, the Casio Pro Trek PRW-6000 meet those preferences? Let's first have a look at the basics.
Watch design
The watch is quite light with a weight of a mere 72 g, which means you will hardly notice wearing it, weightwise. It comes with five buttons and a digital crown which you unscrew and pull out to adjust the settings of the watch, and then secure again by pushing in and locking in place. The buttons are used for a variety of purposes and can switch funcion when pressed or held for 2 seconds. The two buttons on the right are for displaying compass, or rather magnetic or true north, and altitude respectively, while the two on the left change what time info is displayed and the various modes. The bottom button is for the manual backlighting, and can be set to display for 1.5 or 3 seconds.
The materials used are stainless steel, synthetic resin and mineral glass for the watch, and synthetic resin for the wristband. The profile is tighter than some adventure style watches, but still sticks out compared to more traditional watches with its width-, height-, and depth measurements of 52,1mm x 47,9mm x 12,79mm. Note that various places here give incorrect data, including official sites.
The hands, especially the minute hand, overlap the digital display, which can be a bit of an annoyance. It is of course not an uncommon issue with watches that combine analog and digital displaying of time. And the maker is aware of this issue and therefore added a software function for temporarily moving the hands out of the way by the pressing of the low mid "light" button together with the low left button. Still it feels like more of a makeshift solution, being a bit awkward, and the issue could have been lessened through increasing the size of the digital display and the characters used.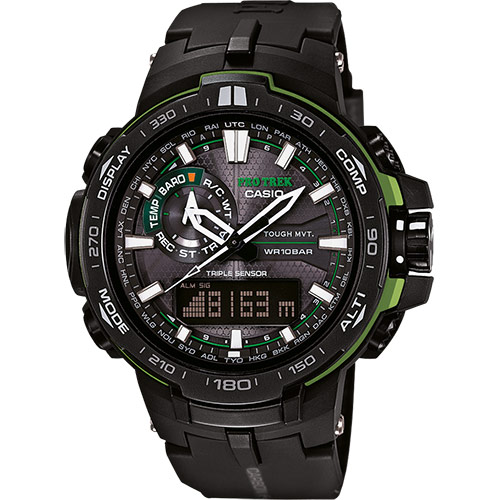 Turning to looks, again this is up to personal preference, but I find it quite attractive, with a rugged, yet stylish design that inspires confidence in its quality. It comes in a few different design variations and while I have the one in the top image, you can also have it in black with accent colours, like the one on the right.
The stick dial is clean, as is the digital display. The contrast in the latter could perhaps be a bit stronger, but works well enough.
The small subdial indicates the function mode chosen; Barometer, Thermometer, Data Recall, Stopwatch, Countdown Timer, Alarm, World Time, and Receive modes. Clicking through the modes is one direction counter-clockwise only, meaning you have to press the mode button repeatedly to go through all the modes. You can't go clockwise, so be careful not to press too many times or you have to go through them all again.
The digital display is of course used to present most data, but the analog hands too are used for some data, e.g. showing North, and barometric pressure differential.
Functions
As one would expect from this type of watch, you find not only the basics of time keeping, date/month, stop watch, countdown timer and the option of five different alarm times, as well as hourly "beeps", but also more adventure oriented functions like compass, barometer/altimeter and thermometer. Some of these, like the compass and the thermometer, require calibration, some of them, like the altimeter even repeated calibration, right before use, while others, like the time keeping itself is automatic and self-adjusting.
Setting up the watch and calibrating it can feel a bit daunting at first and you will likely need to have a look at the manual. The watch can be set with both Home City Time and World Time set for a specific city, easily switching between the two with the press of a button. World Time mode can also be used to check the time in 29 time zones, marked by city codes on the inner bezel.
Likewise, the use of barometer alarms for drastic change in barometic pressure, indicating a weather change, will take some manual reading. Luckily the 116 page manual is both extensive and fairly easy to read.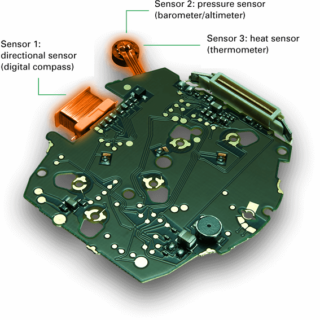 The thermometer should be mentioned specifically as it not only needs calibration, but also will give a slightly wrong temperature when the watch is worn on your wrist. For proper temperature reading you should set it aside, away from any heat source for a few minutes first. Also note that it is limited to measuring temperatures between -10°C to 60°C, so it doesn't work when it gets properly cold, which is a bit of a shame.
Looking to the technology, the watch uses three high quality, precise sensors for measuring air pressure, temperature and direction respectively, marked as orange in the picture on the right. This is the third generation of these highly sensitive miniature sensors developed by Casio.
Reliability & Durability
Reliability here is dependent on three things; continuously correct data, consistent displaying of data, and durability, in turn dependent on power, synchronizatio/calibration and build quality. We need to consider all these when we look at how reliable this watch is.
As already touched upon, several of the functions rely on calibration, even repeated calibration, in order to display reliable data. It appears as if some users miss this and therefore believe they are experiencing issues, but it is really no fault of the watch itself. Properly calibrated when needed, it is a highly reliable watch, as also testified to by many others.
Looking to accuracy, it has a ±15 second deviation per month, which alone is very good, but if the setting for it is set to on, the watch will also automatically make up to six attempts per day to synchronize the time over radio, to correct atomic watch time, and also does hourly adjusting of all hands to correct positions for the time zone you have set the watch to. Simply put, timewise, you can trust this watch.
The watch is said to be functionally reliable down to temperatures of -10°C/-14°F, and while that may at first appear a too high temperature, in reality you normally won't carry your watch exposed at lower temperatures, instead wearing it underneath a jacket and gloves.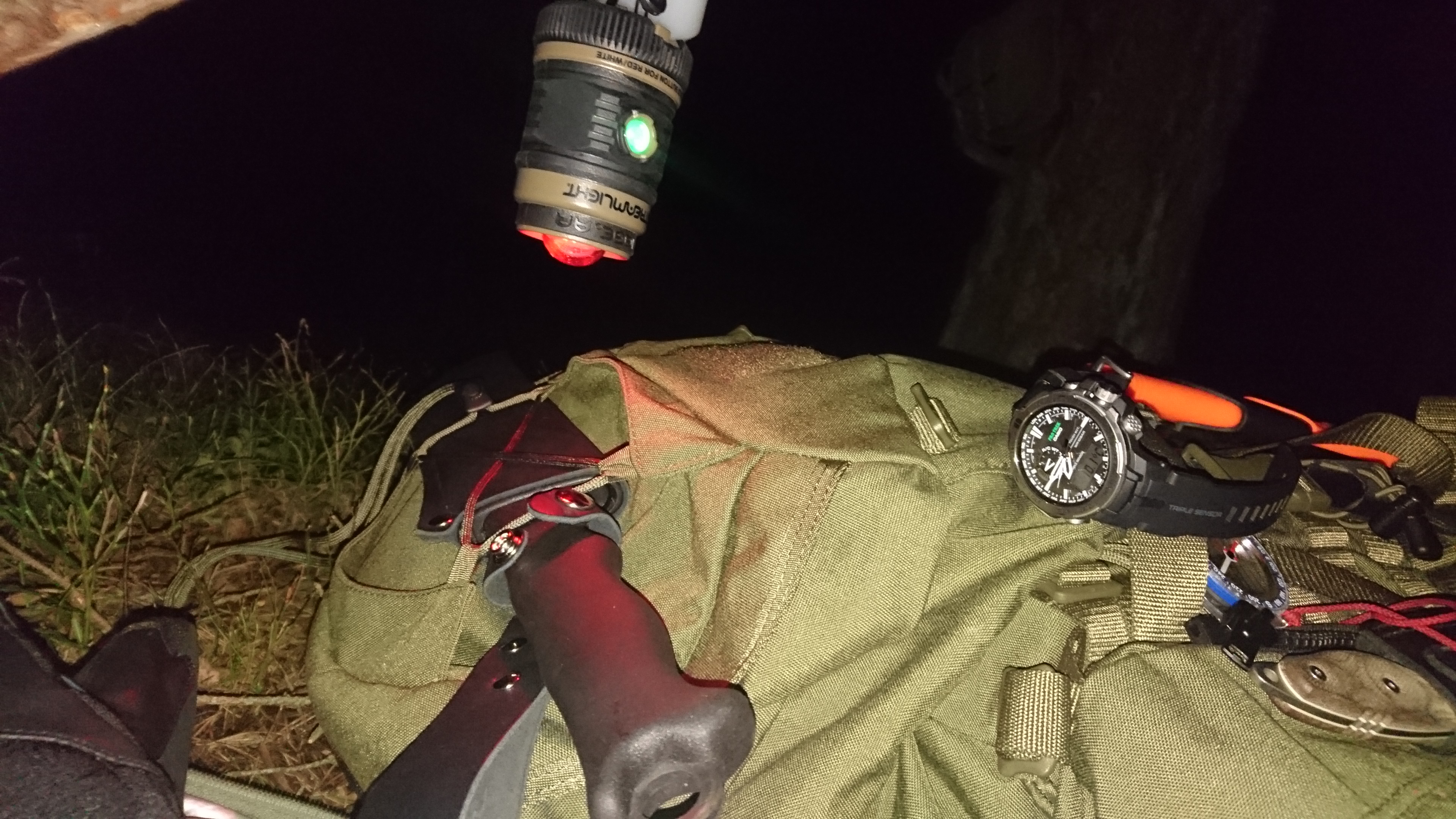 One of my favourite features of the watch is that it is solar powered, meaning you never have to replace the battery, and you will never be surprised by it not working for lack of battery power. It can of course still run out of power (although I have yet to experience it), but leaving it in the sun for 3-6 hours will load it up again. It of course also has a battery indicator. The watch can also be set to power save mode and you may also want to turn of the options for the backlight to be turned on with the flick of a wrist, and also set the backlight to 1.5 instead of 3 seconds.
Being made from stainless steel, mineral glass and synthetic resin it is hard as nails, and intentionally built to be one of the toughest watches on the market in the price range. As expected it is waterproof to 10 bar/100 meters, meaning it is more than good enough for swimming and snorkling, but not a proper diver's watch.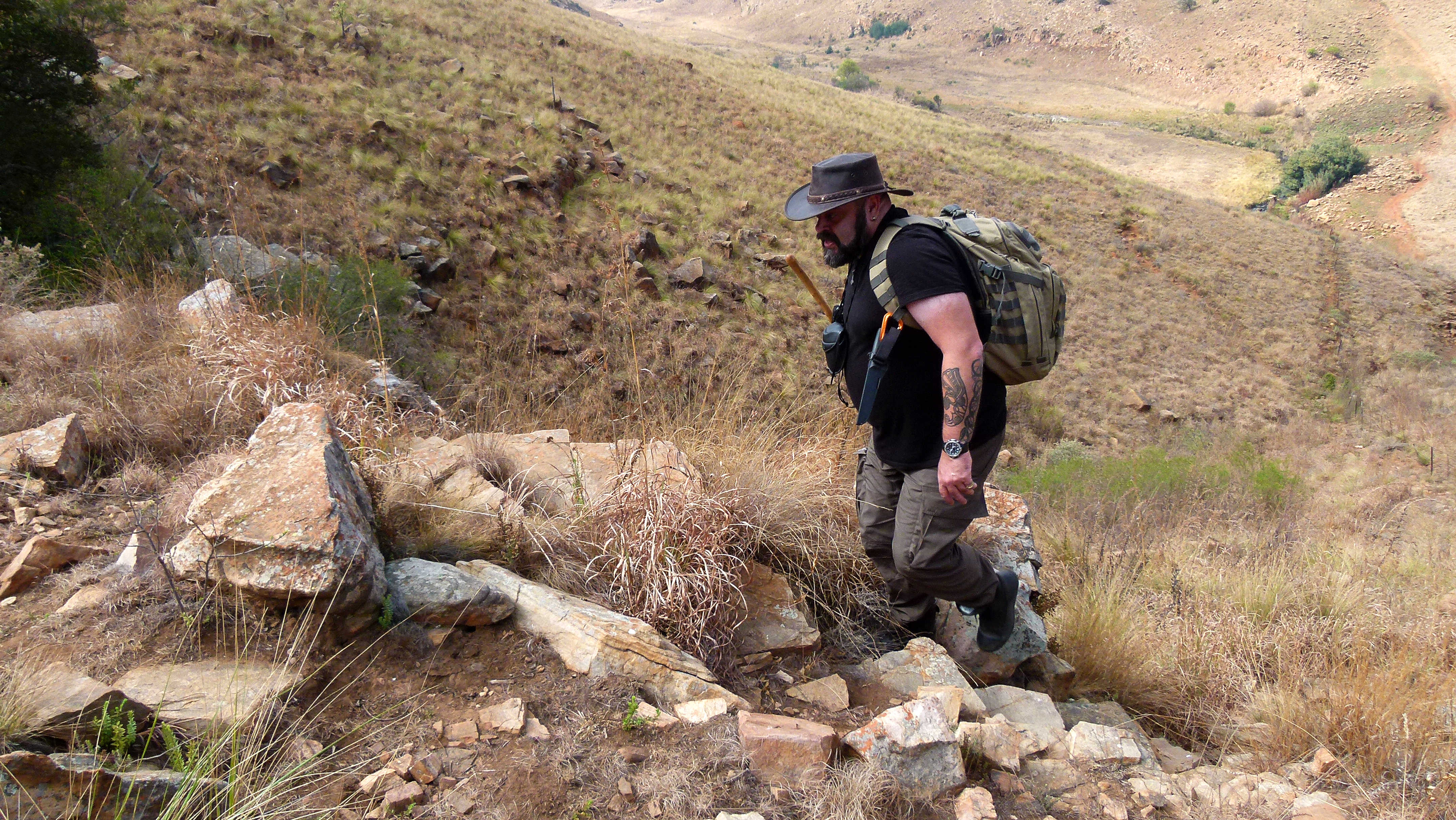 Having used it extensively, with daily use over a period of well over two years, in a wide variety of circumstances, ranging from hiking in the high heat, and the chill, of the South African plains and mountains, to both summer and winter forest lakeside camping and canoeing, to small hiking in the proper cold in the far north of a wintery Sweden, it has never failed me. The steel and resin is naturally starting to look slightly worn, but the glass is still completely scratch free.
Readability & Comfort
This is one of those oh-so-important-but-often-forgotten aspects of a watch. You should never hesitate in the last, trying to tell the time when you look at your watch, be it day or night. Here I am a bit torn. I would have prefered for the watch to have solid hands instead of hollowed out ones, like on the PRW-7000 models. With solid hands you could also have had properly fluorescent hands instead of just the very small and hard to read glowing points at the end, to match the nice glow-in-the dark markers on the dial.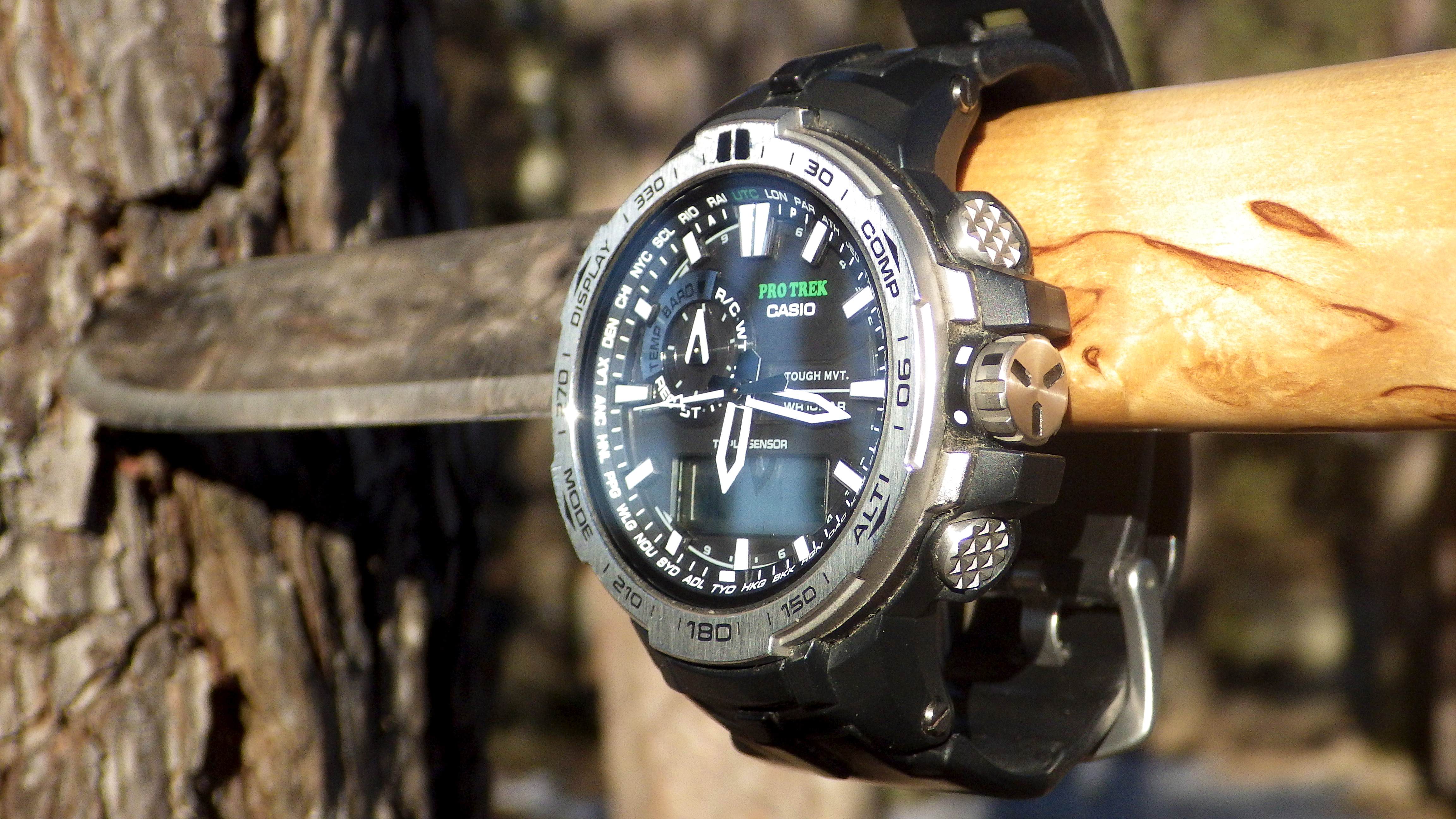 The perfectly flat glass is shiny and can be quite reflective at the wrong angle, but even so, you will be able to see the hands and markers through the reflection, and just twisting your wrist a little removes that minor issue.
Comfortwise, the watch and the wristband are very nice, although I at first felt that the large crown arrangement dug into wrist and hand when doing certain work with my left hand. However, loosening up the wristband a little removed the issue and I soon didn't notice any of this anymore, in fact no longer even feeling I was wearing it.
Final thoughts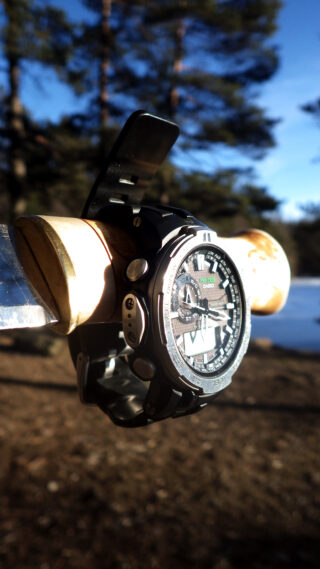 So, I started this review by listing the things I look for in a watch; a watch that fits extreme outdoors as well as everyday use, something I can always trust, both with the data it provides, and that it won't fail me when I need it the most, ideally powered by kinetic or solar power, and instantly readable, preferably with analog hands. How well does this watch then meet these demands?
First of all, I absolute adore the fact that it is solar powered. I wore my old kinetic watch for near 20 years before replacing it with this one, never changing batteries once and never having it fail me. While it has only been two years, I expect no different from this watch. I simply can't imagine depending on watches which require changing of batteries when you have the option to choose not to.
Looking to the functions, I have little real need for some of them, but I do use the compass every now and then, to double check my direction, and it works very well for just that. And I can always use the analog hands for rough estimation of direction too. The time keeping is, as already mentioned, perfect and hassle free, with the watch taking care of itself through the radio self-calibration, even changing automatically for summer/winter time if needed. I also appreciate that you can turn on and off the beeping sounds for the buttons, as I do not want to scare off wildlife when I am out in the woods. Functions like measuring how much you have ascended or descended a mountain, and having warnings for weather change are cool functions, but personally, I just don't have much use for them since I don't climb mountains and I normally just need to look at the sky and the clouds to know what weather I will be having later.
Turning to the software, a few bits are a slightly counter-intuitive, like the one-way navigating between the different modes. And, setting things up properly is perhaps a bit more complex than expected, requiring having to study the manual to learn how the functions of the buttons shift depending on context and depending on whether you press or hold them for varying numbers of seconds. Still, if you give it the time needed, it is a fantastic watch that fits my needs perfectly. The only missing feature I would like to see added, or tweaked, is for the dials and hands to be more brightly fluorescent, removing the need for the use of backlighting in the dark.
The looks of the watch, finally, hits a perfect balance between utility and style, looking both quite functional and pragmatic, but not overbearingly so, or too "tactical" or "macho", and thus works equally well with a suit and tie as with your outdoors or military surplus apparel. I have to admit though, that the PRW-7000-3JF model is even more attractive , with its slick look, but the PRW-6000 is a fantastic watch and I can happily recommend it to anyone looking for a tough watch with some practical outdoors features and with an eternal power source.