Phones, smart watches, tablets, ebook readers, camping radios, speakers, wireless headsets, flashlights & lanterns, GoPros & adventure cameras… More and more we live with rechargeable devices that we use daily, for hours on end, recharging them every night. Many of them we even bring with us when we go outdoors for a day or a few, and we also want, even need, to be able to use them if the power grid occassionally fails us with outages. Small power banks, while a convenient solution for daily carry in our pocket or work bag, are commonly not very durable, or resistant to water or dirt. Neither are they particularly powerful, and thus not very suitable for week-long periods outdoors, especially not for a family. For that, we need something distinctly tougher and more powerful.
The company behind the power bank we will be looking at today, Outdoor Xtreme Energy (OUTXE) was founded in 2015 and on their site, they state that they "…believe that outdoor products should be designed to last and be rugged. Today's "poor quality" mentality really bugs us. That's why our goal is to make outdoor products that are both durable and dependable in all outdoor conditions."
Now, just recently, OUTXE presented a new rugged power bank "designed to be the best outdoor power bank for modern travelers.", so when given the opportunity to test their brand new OUTXE W20, we were quite excited to see how they had managed to succeed in their great ambitions.
Sounds interesting, right? So is it as good as promised? Let's find out.
To begin with, for a quick overview, here are some of the core features:
20000mAh / 74Wh capacity.
Two input ports (USB-C and Micro USB).
Ultra-fast charge speeds up to 24W, charging devices to 80% in just 35 minutes.
Wireless charging.
Integrated solar panel.
Premium battery cells and sophisticated "smart" internal circuits (IC).
Multiple circuit protection prevents short circuits, overheating, over-discharging and over-charging.
Certified by CE, FCC, and RoHS.
Integrated 200lm flashlight.
First impressions
First impression of the OUTXE W20 power bank, is that it is a rugged, solid, and quite impressive "no fuzz" piece of technology. Black & red, or camo & black, with protective rubber corners, tough impact plastics, and a distinct massiveness to it, it appears a quality product, ready to take a serious beating. The last "beating" bit I will return to again, later.
It is roughly the size of three smartphones stacked on top of each other, which isn't bad considering the capacity. It is heavy though, weighing in at 585g / 20.6 oz, so for everyday carry in a bag or pack, you may have to consider your priorities. For a camping trip with family or friends, on foot, bike or car, the extra weight may be a quite reasonable trade-off for the benefits offered.
At both ends, located diagonally opposite of each other, the OUTXE W20 has a small, integrated strap for connecting longer carrying straps or carabiners, so you can secure it to the outside of your bag or to your clothing.
Controls
The "interface" is simple and as minimalistic as on modern flashlights. The single button is pressed once to see the charge level, or double-pressed to turn the flashlight on or off. With the flash light on, you can then cycle through strong, weak, and S.O.S. light modes by pressing the button again.
The OUTXE W20 power bank has six indicator lights, Five of them representing 20% charge levels each, so two lights equals 40% charge level. The red light being on indicates that it is charging from its integrated solar panel. Long-pressing the button for two seconds turns on the wireless charging mode, with the red light then switching to blue instead. Should the blue light keep flashing, then the device needs to be placed better on the power bank, to receive a charge.
Capacity
The charging capacity of the OUTXE W20 power bank is 20000mAh / 74Wh, which is the current limit of what you are allowed to bring on a plane. This is plenty, as it can charge a smartphone some 7-9 times from a full charge of the power bank, and maybe a little more if the power bank is kept in the sun during a sunny week of camping or sightseeing. Other devices of course suck up more of that power, while others a bit less. For a family staying away for a long weekend, it should be sufficient to keep all the phones going during the whole stay, and a bit more on top.
Recharging the power bank from a power outlet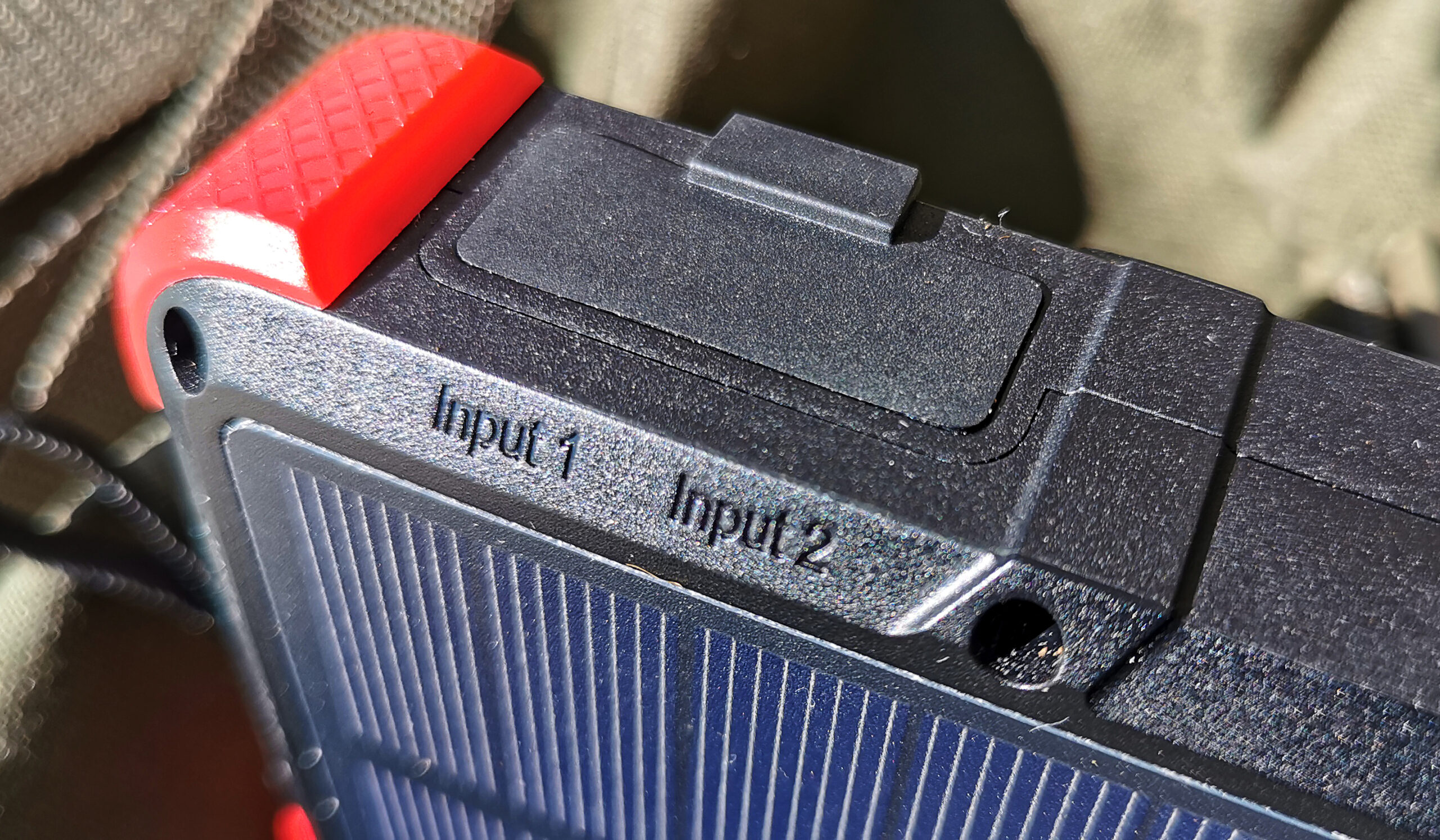 On the side you find the two input ports; one a USB-C and one a micro USB port. Either port can be used on their own, to charge the power bank, or you can use the two ports simultaneously, to charge it about twice as fast. This is quite ingenious, and very useful if you are in a rush, and need to go in not so many hours. Using just one port, the recharging will take you 10-12 hours. That time again, is nearly cut in half if you use both ports to charge the power bank, charging it in about 6.5 hours. This is fantastic considering we are talking about a 20000mAh power bank, and here too, the OUTXE W20 performs just as advertised.
Recharging the power bank from the solar panel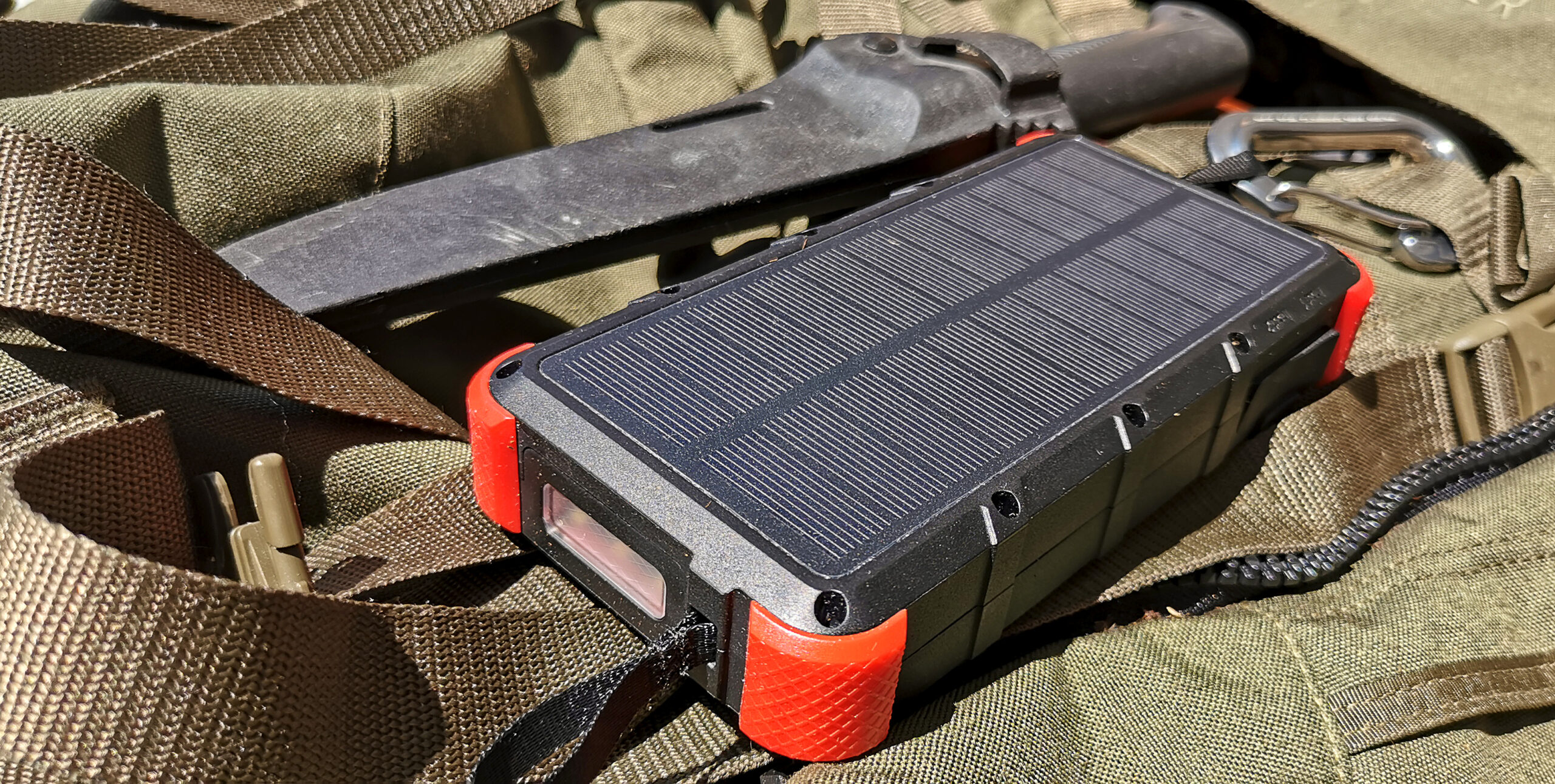 Advertised as "environmentally friendly, with a 2W high conversion efficiency solar panel", the reality is that those 2W are quite modest, as is also indicated by the solar panel on the OUTXE W20 being described as for "emergency purposes". About a week of direct sunlight is required for a zero to full charge of the power bank, most likely more. Still, you do not need a full charge to recharge a smartphone to full or usable levels, so the solar panel may still prove useful, not least to extend the power bank's outdoors capacity, when you are far away from any power outlets. Still, getting an external solar panel is of course a far better option, and OUTXE actually offers a 21W solar panel, which is easily combined with this power bank. Regardless, I would rather have this small solar panel on the power bank than not.
Charging devices
As already mentioned, the OUTXE W20 charges a smartphone 7-9 times from a full charge of the power bank. The QuickCharge feature means ultra-fast charging speeds of up to 24W, charging a smartphone to 80% in just 35 minutes. Using the two output ports, you can also charge two devices simultaneously. Note though, that when using both physical outputs, the power bank will limit the maximum power to 24W, to keep the temperature within safe limits.
The very cool wireless Output of 5V DC means you can actually also simultaneously charge a third device, while using the two ports for the others. I am, unfortunately, unable to test this feature as my phone does not support Qi wireless charging, but I really like the concept and I am actually considering adding this capacity to my phone using a Qi receiver.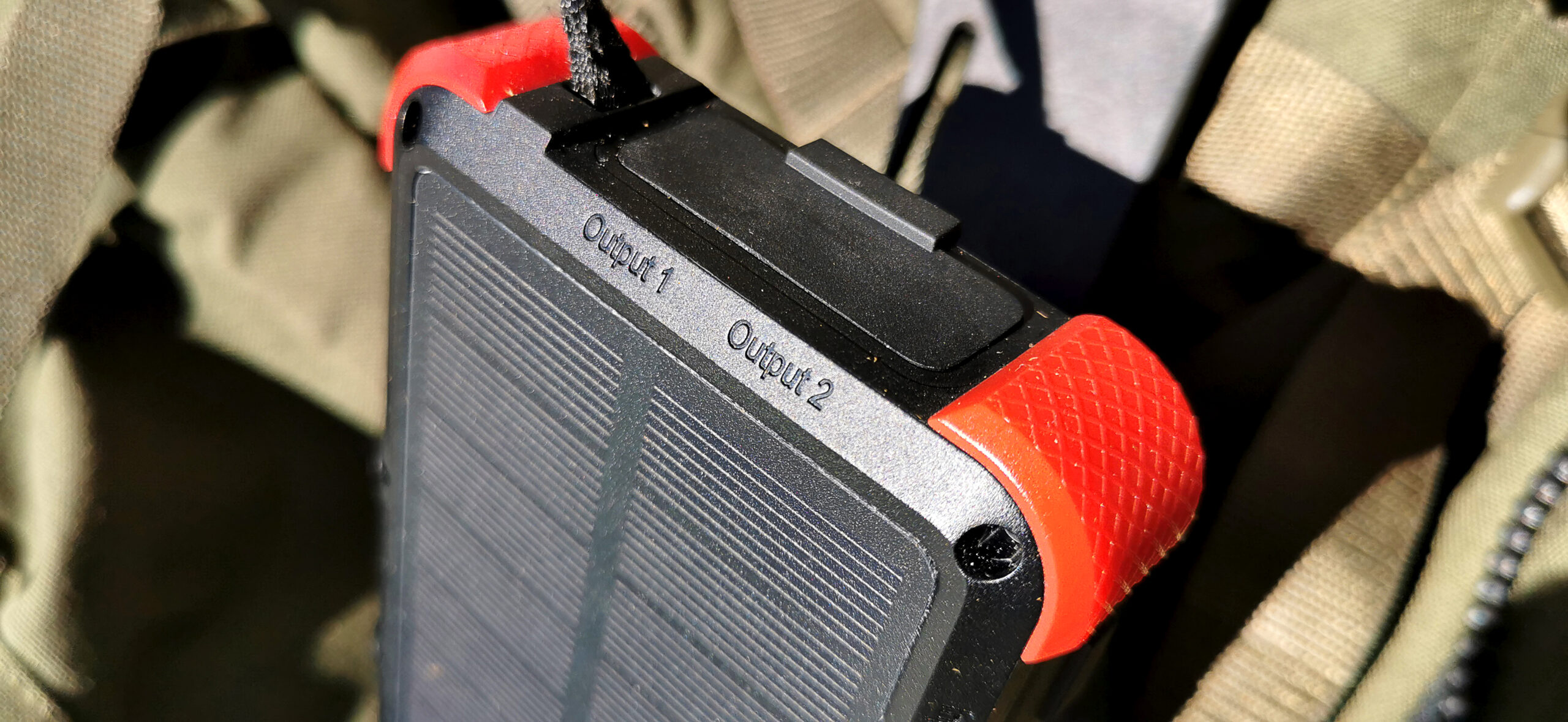 The two USB-A ports are located at the end opposite of the LED flashlight. One port is green with the other port a standard black. The green port, marked as Output 1, is Quick Charge 3.0 compatible with 5V/3A, 9V/2A, and 12V/1.5A output. Output 2 is a standard port, giving 5V/2.4A. All ports are secured with very sturdy and waterproof rubber covers.
Worth noting, is that this power bank is not enough for my laptop, but the OUTXE W20 works well with my other devices. Also this isn't really a surprise or a deal breaker as it is not what it is designed for. But, if it is something you absolutely need, then you will need to find another power bank.
The only issue, and one not unique to the OUTXE W20 is how its performace is distinctly limited under subzero temperatures. This of course is common with all batteries and power banks, and even digital cameras commonly stop working in cold weather, after a few minutes of exposure to cold, while smartphones have their batteries quickly drained when kept in a cold pocket. You can of course combat this using your own body heat to keep your power bank or devices warm. So, this is not a complaint as much as it is a wish for the future, and one that might never be fulfilled due to the reality of things.
Durable & Waterproof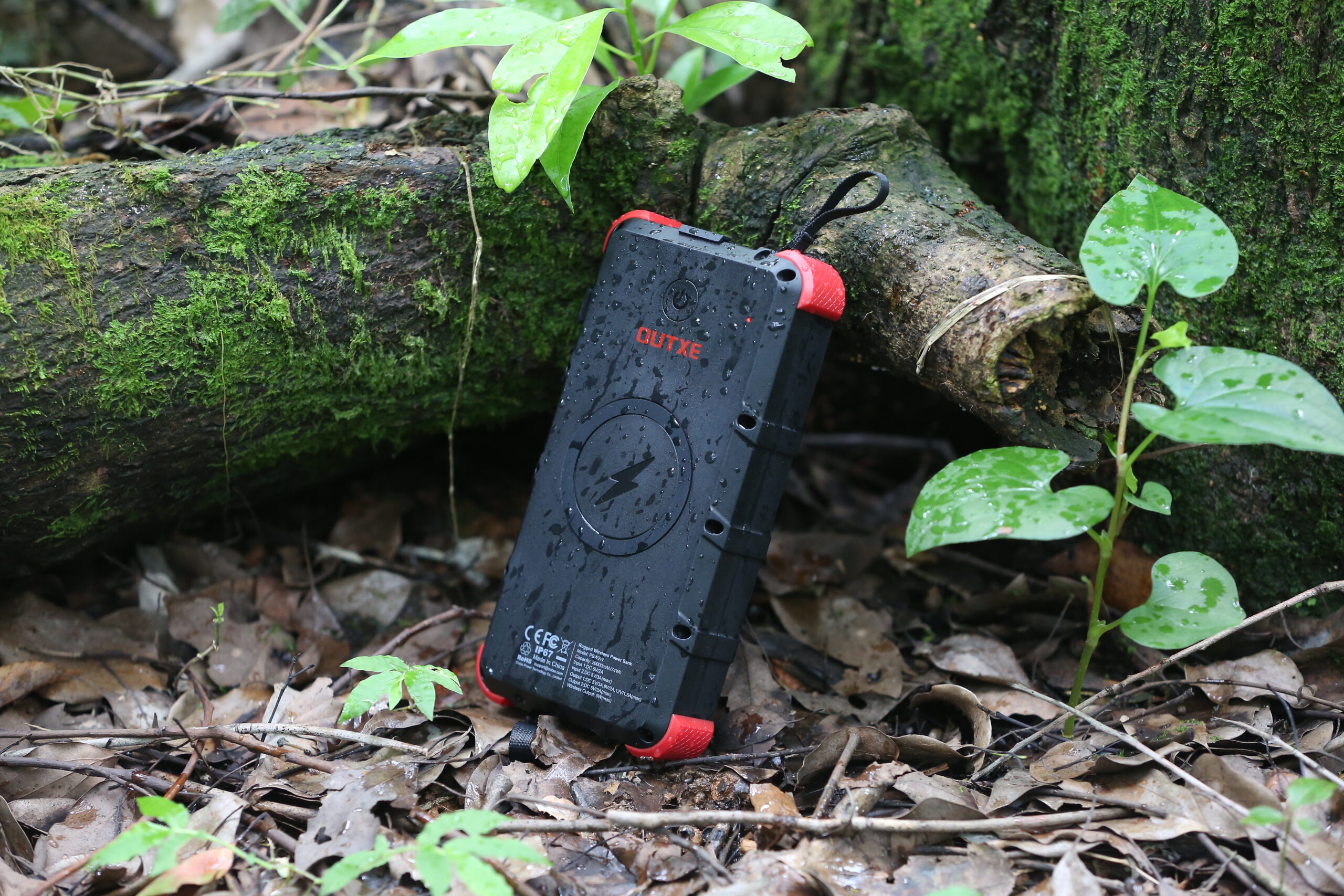 OUTXE refers to the construction of the power bank as "military grade", and while the term is often used rather loosely, their bold claim that it can take a 10ft/3m drop and 1.5 ton crushing power is quite impressive, if true. I have so far only tested 2m drops onto hard flat ground, but it has in those tests held up flawlessly, just bouncing a foot in the air once, before resting completely unharmed on the ground. I even took a hammer to it, hitting both sides, and neither the wireless side, nor the solar panel, took any visible or otherwise noticeable damage.
The IP67 resistance classification, with the "6"-part specifying it as "protected from contact with harmful dust", and the "7"-part as "protected from immersion in water with a depth of up to 1 meter/3.3 ft for up to 30 mins", further guarantees that it can take some abuse when outdoors in rain and damp conditions. Of course you need to make sure that the sturdy rubber port covers are securely in place with no caught dirt breaking the seals, but having dragged the power bank through dirt, grime, and water, it certainly lives up both to the requirements and the maker's claims.
Extra features
So, what about extra features then? The OUTXE W20 includes an integrated 200lm flashlight, but honestly, while the the first, the strong, light mode is enough to help you see some distance in the dark, it is not very comfortable to carry, so it is really only convenient and handy for more static situations, maybe as a reading light in its weak mode. You will also most likely have a flashlight and/or lantern with you already, so while not entirely useless, it doesn't really add much either. The S.O.S. mode feels a bit unnecessary, especially since you need to cycle through it as the third mode.
Being designed specifically for outdoors use and solar charging, the OUTXE W20 comes delivered with two carabiners and two carrying straps, so you, as already described, can fasten it on the outside of a pack or bag, or to your belt or trousers.
More interesting, is the fact that the OUTXE customer support appears to be quite proactive, even seeking out and contacting the odd displeased customers who have expressed negative experiences at online stores like Amazon. This is truly great to see from a fairly young and ambitious company, and as such quite impressive and promising for the future.
Final words
So, to return to the first questions; is it any good and does it live up to the bold claims? In short, yes, it most certainly does. It is quite the beast, tough as nails, and able to take a good beating and rough treatment, passing through abuse from dirt, water and rocks completely unharmed. And considering how it can be both charged and can charge devices at very impressive speeds, with a capacity that is more than enough for both my own and my family's needs, recommending the OUTXE W20 power bank is easy. This one will stay with me for many years to come, and if it suits your needs, then there is no reason to hesitate.
***
Specifications
Direct link: outxe.com/products/outxe-w20-wireless-solar-power-bank-20000mah-on-kickstarter
Price: Ca 69 USD
Capacity:  20000 mAh (20Ah × 3.7V = 74Wh)
Waterproof Rate: IP67
Working Temperature: 0 – 45 ℃
Solar Panel: 2W, 400mA
Flashlight: 200lm
Micro USB Input: DC 5V / 2A (max)
Type-C USB Input: DC 5V / 3A (max)
Quick Charge Output: DC 5V / 3A, 9V / 2A, 12V / 1.5A (max)
Smart Output: DC 5V / 2.4A (max)
Wireless Output for Qi-enabled devices: 5V DC
Dimensions: 170 × 86 × 32.5mm / 6.7 × 3.4 × 1.28 in
Weight: 585g / 20.6 oz