The EKA Nordic W12 knife is designed and manufactured by one of the oldest Swedish cutlers, EKA-knivar AB, a company founded already in 1882 under the name Hadar Hallström Kniffabriks AB, but already in 1917 changing its name to Eskilstuna Kniffabriks Aktiebolag (EKA).
The city of Eskilstuna is Sweden's second knife making centre, with cutler traditions and history going back to the 17th century. It is also where swords, not least sabres, for the military used to be manufactured. Still to this day, it is commonly associated with quite elegant pocket knives carried by Swedish gentlemen for near 100 years, as well as the famous Svalling sabres. Even President Dwight D Eisenhower had his own EKA folding knife designed, to give away as personal gifts.
Up until ca 1950, it was the distinctly stronger rival to the today more commonly known Mora, with some 40 knife factories in the city, and makers like E. A. Berg, J. W. Carlsson, Pontus Holmberg, J.A. Hellberg and Emil Olsson counted among the ca 200 known knife makers in the city, making both folding and fixed blade knives.
Today, much like Mora Knives, only EKA remains in the city, and while the production is nowadays done in Portugal and China – a necessary move due to economic pressure and Asian competition, the final assembly, the finishing work and the quality control is still primarily done in Eskilstuna. And the steel, of course, remains the fantastic old Swedish Sandvik 12C27 steel, the same steel used in e.g. the Mora Kansbol and Bark River's Mikro II. Since 1990 it is also Royal Purveyor to the Swedish Court. In 2016, its current owner and president moved to the USA, branching off the company with an office there too, bringing this old brand back overseas again.
The EKA Nordic W12 knife
More well-known for their folders, EKA also makes fine fixed blades and this is one of their later models, delivered with paracord lanyard, and a sharpener and firesteel attached to the kydex sheath. The actual knife design goes back at least 20 years, and was part of their Nordic Series Optimal, developed in collaboration with Swedish Hunters and Survival Instructors, although then manufactured with true wooden handle, today replaced with G10. Their H8, W11 and JoF 7 knives are also part of the same family, although only the former two go by the Nordic name, and the W11 does not seem to be produced right now.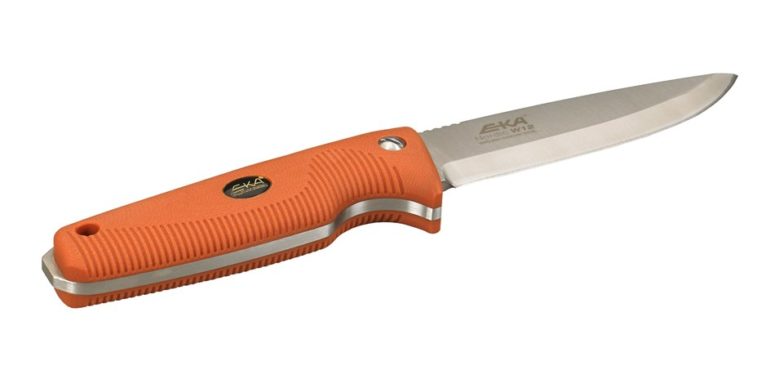 Data for the EKA W12 knife are:
Total length: 230mm / 9in
Blade length: 120mm / 4.72in
Blade thickness: 4mm / 0.15in
Steel: Sandvik 12C27 stainless steel
Grind: Scandi Grind at 40°, Thumb jimping (Not truly Scandi Grind though, as it has a small secondary bevel)
Hardening: 57-59HRC
Grip: G10. Scales can be removed
Grip colours: Orange, Black, Faux Wood
Weight: 238 gram / 8.4oz
Impressions
Shape wise, with the gentle curve extending all the way from the back end to the drop point, it is quite reminiscent of the little Fällkniven WM1, only much beefier and bigger. Speaking purely from an esthetic point-of-view, it is a very attractive knife. And picking it up, it feels very powerful and sturdy in the hand.
Looking to other Swedish models, I would consider it a good competitor to the internationally quite known Mora Garberg, although the Garberg is even heavier with nearly 60-100g more, including sheath, and depending on what sheath you choose. The Nordic W12, however, has a thicker blade with 4mm vs Garberg's 3.2mm. Both knives are more of the survival type, rather than more nimble bushcraft, fishing and hunting knives, perhaps somewhat more aimed at the US market. Both are at the heavy end, and certainly a nightmare for the ultralite hikers, but I appreciate the feel in the hand.
It should of course also be noted that EKA also has several lighter and more nimble knives in their range, like the earlier mentioned JoF 7 and the H8, both half the weight of the W12, as well as several designs of their famous folding blades.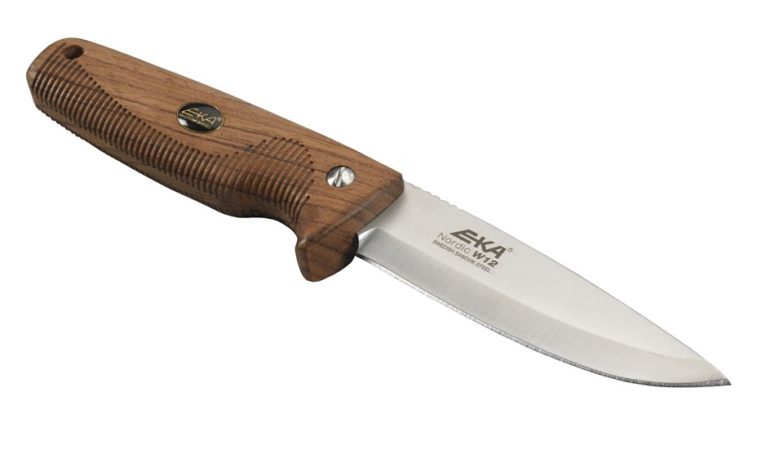 These design choices have some consequences and tradeoffs. For example, the added durability at the same time makes it less of a keen carving knife. And the exposed tang makes it less fun to use without gloves in the harsh cold of winter, thus breaking a bit with Nordic tradition. However, this is by design, and what you get is a quite good and durable knife that can take quite a beating, being used for a greater variety of tasks. Basically, a Jack of all trades, but master of none, which is quite typical for the type.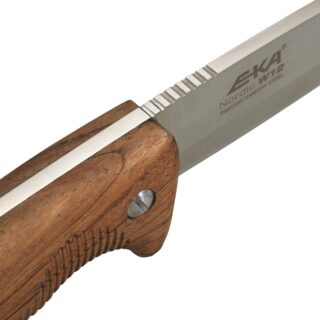 The blade is full tang and the scales are a bit shorter so the pommel is exposed and can be used for some hammering or breaking of glass. Claimed to have a "Scandi grind" blade, this can be contested as it clearly has a distinct secondary bevel, and the maker's info says nothing about this either. However, if you so desire, this should be easy enough to grind away, with a little bit of work.
The jimping on the blade too is really well done and feels good and comfortable. The back of course is made with flat angle so it works well together with the firesteel, throwing a shower of sparks. As always, remember to scrape away the paint protecting the firesteel before using it. It is great to see the attention to detail here, and the actual knife feels high quality indeed.
The grip deserves a special mentioning. All of them, black, orange and "wood" are made out of textured G10 and is very comfortable to use regardless of grip, which is why you also see very similar grips on other models. And the fact that you can easily take it apart to clean it, or even to replace the scales, a fairly uncommon feature on Swedish knives, but quite common in the US, is very nice. Note though that the screws tend to be on the soft side and you need to use a screw driver of the appropriate size, or you risk damaging them. The grip of course also has a lanyard hole.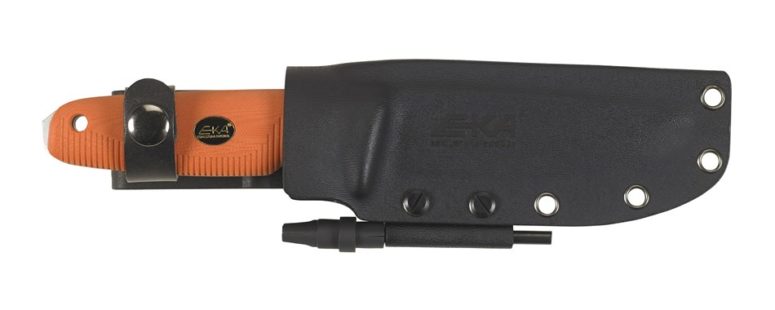 The sheath then, is nice and functional, and works quite well. Made out of Kydex, it has a well-working retention strap, a drainage hole and several holes to attach a lanyard, string or extra gear, or for attaching the belt clip horisontally, although given the heavy handle, the latter would likely prove to be a bit awkward. There is some light rattling from the flats of the knife, but nothing truly disturbing. However, if it does disturb you, then here is an old Sami trick. Put a strip of birch bark inbetween the knife and the sheath, tightening it down a bit. That way you also have dry tinder with you.
The extra holes and the belt clip also mean you can attach the sheath upside down to a MOLLE rig, and with the retention strap buttoned there is no risk of the knife falling out, however hard you try. The retention strap is quite easy to open and close, and keeps the knife safely and nicely in place. Again, this is very nice to see, as so many fail with this very simple thing.
It of course also already comes with a combined firetool and sharpener. The latter is really the only criticism I have for this knife. First of all it is placed in the way of where you need to put your fingers to be able to pull out the knife with one hand. This can be adjusted by moving it down one step, but is a bit odd. Secondly, it doesn't really sit tightly in its tube and it has fallen out, but luckily I noticed it. For this reason, many have taken to a habit of securing it with a rubber band. Third, the firesteel is very thin and the sharpener is a bit flimsily attached to the firesteel, and you should use it with a bit of care for this. I think the idea is nice, if a bit gimmicky, but it leaves some room for improvement, or else the sharpener could be skipped altogether. Most likely, in a temporary and limited survival situation you would not really need to sharpen your knife, and for other contexts, this is really not the type of sharpener you should be using. If EKA decides on improving it, I would suggest it is also worth considering adjusting it slightly so that it keeps the blade at the correct angle, making it idiot proof to use.
All in all, it is a high quality survival knife that does its particular job well, and is decent for regular outdoors work too. The same is true for the sheath, which is quite nice and well beyond a lot of stupid sheath solutions I have seen over the years. Only the little firesteel sharpener leaves something to be desired, and that really is a very minor complaint.
Pricewise it is just below the Garberg with a couple of tens of dollars, and a lot cheaper than the also similar Spyderco Bushcraft, with a mere third of the price of the Spyderco knife. It really is a quite nice knife well worth having a closer look at if you are in the market for this type of knife, not least if price is a concern for you. Good job from EKA and well in line with their century old reputation for making good quality knives.