Today we will review three knives by a Swedish brand that oddly enough is little known to the common Swede, but which is a proper success story of a company that enjoys great respect for their high quality knives, by professionals and civilians alike, worldwide. The company has a somewhat odd name, Fällkniven (Folding Knife) given that their greatest successes, and the very foundation of their existance, is fixed blade knives. Regardless, like so many other of the very best knife makers in the world, Fällkniven still remains very much a family business and as a result, they put great care into both their products and their customer relations, something not so common in modern society, but luckily still remaining, in places, in this particular trade.
Background
The development of the first Fällkniven knife, the F1, started already in 1987 as Peter Hjortberger received a request from the Swedish Defence Materiel Administration (FMV) for a new survival knife for the Swedish Airforce. Mr Hjortberger did his research into the topic and came to the conclusion that while the knife would be used by special forces, elite soldiers and highly trained military personel, operating behind enemy lines, actual knife combat most likely would end up rather low on the list of priorities for most of these users, given how modern warfare is commonly executed. That simple conclusion would be the starting point for a revitalization of pragmatic knife designs for outdoors life with the design of the new F1 knife including a fairly short & broad blade, a less pointy… point, and a covered tang, well suited for the tasks it would primarily be needed for, in the sometimes cold and wet climates of Scandinavia.
The knife used a steel called ATS34 which was also used in the turbines of Boeing jets and which is similar to the today so common VG10. After struggling a bit with finding someone to manufacture the designed knife to deliver the 2000 knives ordered by the Swedish Airforce, Linder Cutlery in Solingen finally accepted the challenge, and the first knives were delivered in August 1995, presenting something different, at a time when most makers were mostly offering folding knives, especially for 'special steel'. The F1 knife was selected as the Pilot Survival Knife of the Swedish Airforce in the same year.
During the Spring of 1996, the F1 knives were offered to the civilian market where they became an instant success and during 1996-1997 some 15,000 knives were sold worldwide. Unfortunately, Linder Cutlery decided to start manufacturing their own copy and for that reason the cooperation was ended the same year. Since then, the manufacture of the knives is done in Seki, Japan, a city known as the Japanese hub of cutlery manufacture, much like Solingen in Germany, Sheffield in England, Mora in Sweden, Maniago in Italy and Western New York and Northern Pennsylvania, especially Little Valley and Cattaraugus, in the USA.
With this change, another change was also made; switching from ATS34 to VG10 steel. Although this turned out to be a good decision as it is now the dominant special steel for quality knives, Fällkniven didn't stay satisfied with this and in the beginning of the 2000s laminated VG10 steel replaced the earlier non-laminated steel. This gave the knife more resiliance, adding an increase of more than 20% in flexibility. This is crucial for a survival knife; that it can bend and return to true without breaking or staying bent. Further improvements were the significant handground convex blades, something that simply can't be done properly by automated machine.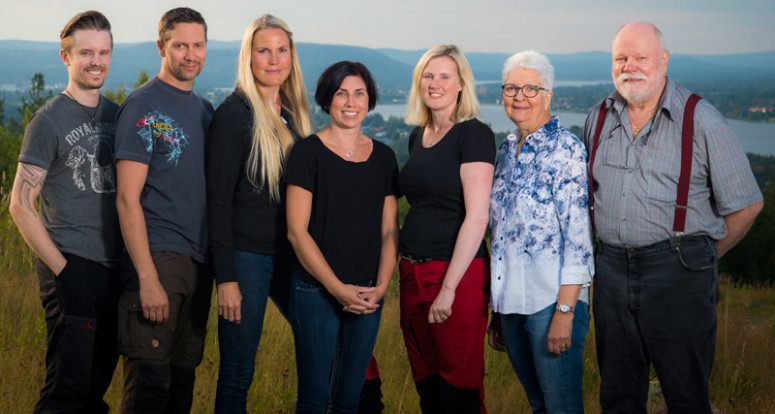 In 1999 Fällkniven was given the prestigious honour of being officially declared a Purveyor to the Swedish Royal Court, an honour only awarded manufacturers and craftsmen of products of the finest quality.
Today the Fällkniven F1 have sold more than a 100,000 knives worldwide and the company has representatives in more than 40 countries, still with the same owner, basically still a family company working out of a near 100 year old wooden building in Boden, in the north of Sweden, with seven family members working together.
Fällkniven knives are known for possessing great beauty in their sleek, elegant and down-to-earth simplicity. Handling and performance is equally impressive with their very pragmatic no-frills design. These three knives in particular are the perfect examples of that very no-nonsense philosophy, although their product range includes far more luxurious, yet still minimalistic & elegant knives as well.
Today however, we will focus only on these three basic outdoors knives. So, let's first turn to the actual hard numbers.
Data
The A1

Total length: 280 mm (11″)
Blade length: 160 mm (6.3″)
Blade thickness: 6 mm (0.24″)
Tang: Almost full tang, tang visible at handle end
Weight (knife): 305 g (12 oz)
Steel: Lam.VG10
Hardness: 59 HRC
Grip material: Kraton®

The S1

Total length: 247 mm (9.7″)
Blade length: 130 mm (5.1″)
Blade thickness: 5 mm (0.2″)
Tang: Full, protruding
Weight (knife): 190 g (6.7 oz)
Steel: Lam.VG10
Hardness: 59 HRC
Grip material: Thermorun

The F1

Total length: 210 mm (8.3″)
Blade length: 97 mm (3.8″)
Blade thickness: 4.5 mm (0.18″), tapered
Tang: Broad, protruding
Weight (knife): 150 g (6oz)
Steel: Lam.VG10
Hardness: 59 HRC
Grip material: Thermorun
With the hard data out of the way, let's look closer at what they really mean.
Blades
All three knives are constructed out of laminated VG-10 steel for the core & edge, and 420J2 stainless steel for the sides, hardened to 59HRC, which gives it great edge retention and good resiliance against breaking or bending. The steel is stainless, as is the norm for modern knives in Scandinavia. The A1 and F1 have convex drop points, while the S1 has a straight clip point. The A1 and S1 both have a double bevel. Both also have bevelled, unsharpened backs, Swedges, with especially the back of the A1 being quite broad.
All three are full tang, although the company have chosen to define them as "Full", "Almost full" and "Broad, protruding", while for all intents and purposes, they are simply full tang knives. The F1 has a 4.5mm/(0.18″ thick blade, the S1 5mm/(0.2″ and the A1 6mm/0.24″, all convex ground. The convex "axe" grind might seem surprising at first as Scandinavian knives are normally associated with the traditional Scandi grind, and since convex grind is often more associated with chopping tools like axes, but here the knives perform flawlessly, being razor sharp. Obviously they all are very strong knives, capable of taking quite a beating with the particular grind adding to their strength. There is no finger choil on these blades, meaning the blades extend almost all the way to the finger guard, thus making them excellent for carving as you can use even the strongest part near your grip. Only a small choil is left, for ease of sharpening.
The back of the blade of the S1 isn't straight enough to work well with ferro rods, although that doesn't matter to me as I don't use my knives like that anyways. In fact, I often think it is a disadvantage as I like to thumb the back of the blade as I carve. The A1 and the F1, however, work very well for this purpose and produce a sizeable shower of sparks when used with a ferro rod. Interestingly, only the F1 feels distinctly angular on the back. The A1 actually feels somewhat rounded and comfortable for thumbing, but still performs well in this area.
The comparative sizes of the knives can be seen in the above image, where a few renowned brands are shown. The best matches are the ESEE knives 4,5 and 6 although they embody somewhat different design philosophies, aimed at warmer climates, and with the Fällkniven A1 being more similar to the ESEE-5 than the ESEE-6, albeit more versatile than the ESEE-5.
Grips
While the A1 has a grip made out of Kraton®, the S1 and the F1 have grips made from the slightly harder Thermorun. All of them cover the tang, leaving just a bit exposed at the end. This is great for colder climates where cold and wet means stiff fingers or even frost damage when touching naked steel over longer periods of time, something I have experienced myself with rifles and shooting in extreme subzero temperatures. The grips are all quite comfortable no matter what kind of grip I use; regular, reversed, upside-down, thumbing the flat, everything works well. The diamond pattern embossed into the sides of the grip gives good control, even when wet.
All three also have a lanyard hole where you can add your own lanyard. The small exposed tang at the end is enough for light hammering, and a great feature.
Options
These three knives come with a few different options, aimed at somewhat different uses as well as tastes. Basically they fall into two categories; coating and sheaths.
All three can be had as "naked" blades or with military blackened blades covered with a CeraCoat 8H coating. This coating also helps prevent rust, but will naturally wear off with use.
The F1 can optionally be had with even harder 3G steel, hardened to 62HRC, at a somewhat higher price, and is also available with green Micarta handles, in a collector's edition, although at three times the price of a regular F1. Only a 1000 numbered knives of this design are made.
As for sheaths, the synthetic Zytel sheaths basically follow the same design, with drainage holes for water and openings to attach leg straps. The beveling for pressing the thumb against to pull out the knife single-handed is clever and similar to the sheath design of Peltonen's Sissipuukko. The retention straps are simple button type and do the job well.
The leather sheaths are more varied, as can be seen in the picture, with the A1 using a regular sheath, the S1 a dangler pouch sheath and the F1 a pouch with a flap. All use good, thick black leather, with perfect stitching, double stitching only for the A1, and 1-2 rivets at the mouth, depending on the sheath. The insert by the edge side is double layer.
The leather sheaths are good-looking, but are also heavier and bigger than the economical kraton sheaths. For most, it will be more a matter of taste and preference though, with danglers and covered pouches appealing a lot to some. All sheaths seem to work well in that the retention straps and flaps actually don't have to be used to secure the knives in the sheaths, although it is of course a good practice to always do so. There is also no noticeable rattling noise in any of them, neither Zytel, nor leather.
Pro versions
Still not satisfied with things, Fällkniven continues to improve on their designs and are just about to release pro versions of their knives. These have a new steel; laminated cobalt steel, thicker blades, wider and thicker tapered tang, new steel crossguard, refined convex edge and a new zytel sheath that is compatible with the MOLLE system. They are delivered with a DC4 whetstone in a shock-resistant and waterproof case that can be used for storage of e.g. smartphone, gps, survival gear, documents etc. Unfortunately we have not had access to these pro versions yet so we can't comment more on them.
Experience & impressions
So, having gone through all the background, the hard data of the designs, and the options, how are these knives in use? First impression, judging just by looks I at first assumed the A1 would be a somewhat cumbersome knife to handle and I expected the S1 to become my favourite, being in between the A1 and the F1 in characteristics and size. The A1 seemed big and heavy and the broad convex grind blade made me think it would be better for chopping than for carving and more delicate work. However, having tried it a fair bit it over the past year it managed to surprise me by being much more versatile than expected. Yes it can baton through even difficult and hard logs quite well, but even finer work is quite easy, which is very impressive for a knife of its size. Weight- and balancewise it has a distinct, but balanced presence. With its 305 g (12 oz) it is still about 150gr/4oz lighter than an ESEE-5, and yet better both at chopping as well as carving. Like all these knives it is razor sharp, so be careful when you do finer work. There is little room for mistakes.
The S1 comes closer to what I grew up with as a child and teen; cheap scandi-grind Mora knives, and it pretty much serves the same role, a great knife for general outdoors use that can serve well with camp chores as well as for gutting fish or game. It is a very comfortable knife that like its brothers sits well in the hand, but is more agile in the handling than the A1, with a thinner grip that makes shifting grip easy. It is reminiscent of the earlier mentioned Peltonnen Sissipuukko, with similar characteristics. But while the latter is certainly one of my favorite knives, the S1 has a few features which makes it score a bit higher, with the protruding tang at the back being one of them. Weightwise, its 190 g/6.7 oz means it is more than twice as heavy as a traditional Mora knife, which here is a good thing.
The F1 finally, is the little brother that is still big enough to handle pretty much everything you normally use the S1 for, although due to its smaller size, easier to wear on your body. Many love it for just that, its great capacity vs size. Its unique leather pouch is also a great feature, making it somewhat reminiscent of Frosts Laplander 95, only stronger and better. This likely contributes to the great amounts of love expressed for this knife in particular.
Final words
And yes, love is really the proper word for it. It is the feeling we sense when things fall into place, when things "click" without us being quite capable of explaining why. It just feels right. All these three are remarkable knives that will make you very happy indeed. They are clearly close relatives with much overlap in the gene pool, but also with distinct personalities in their behaviour. The cost may seem a bit off-putting for some, but these knives are like a marriage; meant for life, and given that, the investment is well worth it, and much wiser than regularly spending the same total amount on new crappy knives. Just learn to appreciate the quality and to maintain your knives well, as we should with everything.
Very cool is also that Fällkniven offers to recondition these three knives for a fairly modest price of ca 40-46€, regrinding the blades and giving them new grips, even laser engraving your name onto the blade.
Last but not least a word of warning: As with all high-quality brands, Fällkniven struggles with counterfeit knives, not seldom manufactured in China, and often sold through online auction sites. They have provided guides which can help you distinguish fakes from real ones and I strongly suggest you study them if you consider buying from anyone else than straight from Fällkniven or one of their official retailers. Make sure you don't get fooled into buying something crappy that will break quickly as you use it. Far too many have been fooled already. Don't let yourself be turned into one one of them.