When you go outoors for a few days or more, you have a three basic needs you need to satisfy; something to eat, something to keep you warm & dry, and something to drink. Food is often difficult to find in large enough quantities in nature and thus needs to be brought. The second, shelter, can be created by natural means if you bring the tools with you, and the third, water, is often found aplenty in nature, although commonly not guaranteed to be safe to drink. Consequently, we carry food, tools and some form of shelter & insulation, but carrying drinking water is unnecessary provided we have the means to clean it to a safe standard. Boiling water of course helps in many cases, but it is time consuming and doesn't help with dirt and taste.
So what else? That is where water filters come into play, and boy does it change things, providing pretty much unlimited amounts of good drinking water. Water filters come in many shapes, from small "straw" types, to water bottles, to pumps, and finally to large group-focused filters and it is a filter of the last category we will be reviewing today. The Swiss Katadyn Basecamp Pro 10 Litre gravity filter. But first a little bit about the company.
The brand
Swiss Katadyn is currently the leading manufacturer of water purification systems with more than 50% of the global market share and they have been in business for more than 80 years. Their first ceramic filter was produced in the 1930s, although portable water purification systems was added only about 15 years ago in 2001, through the purchase of PUR Outdoor. Their products are used both by militiary, international relief organizations as well as civilians, and their extensive product range includes water filters, Micropur, desalinators, as well as the Swedish Optimus outdoor stoves and the Trek'n'Eat freeze-dried foods for camping, emergencies and survival.
Components
A bit back I used to carry the predecessor of the current Basecamp Pro with me on my camping trips and although it was a very good piece of gear, the current version has had some great improvements that make its use even more easy and simple. It is delivered in a box with a black soft nylon case for storing and carrying the whole Basecampe Pro in.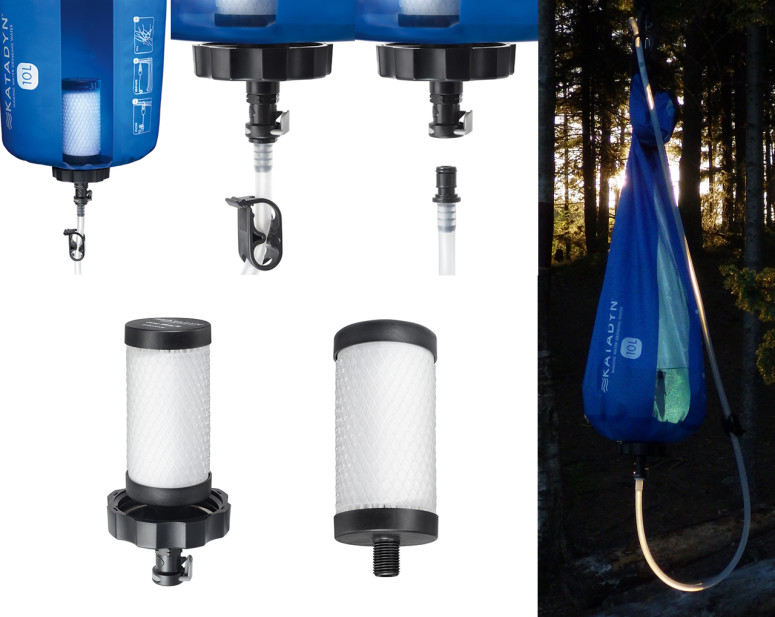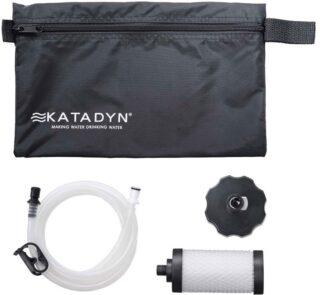 The Basecamp Pro itself consists of
A blue nylon water bag with transparent window
A microfilter
A sturdy plastic screw-on filter cap with quick release connector (for attaching the filter and hose to the water bag)
Two rubber gaskets (one extra)
Two hose attachments
A rubber hose w plastic valve
A nylon hanging/carrying strap
Additionally, it also comes with a small transparent plastic quick-seal bag for the filter and a sponge for cleaning the filter with. The whole setup is very light and adds very little to your packing weight.
Very cool is that the new improvements are also offered as a 70€ upgrade kit, meaning you can convert your old version of the Basecamp into a new one.
Performance
A brand new Basecamp Pro is promised to filter up to 10 litres of water in just five minutes, which is about twice the speed of its predecessor. This performance I never actually tested when I received it, but the impression was that it seemed right. However, this performance seemingly will decrease fairly quickly over time, as the filter gets clogged up by microparticles. Currently, after having filtered some 50-60 litres (11-13 gal) over eight shorter trips of a few days each, the rate is down to 6-7 litres / 1.2-1.5 gal in five minutes, which is still good, but clearly the rate drops considerably with use, even with fairly clean Swedish lake water. This was of course also true for its predecessor which had less good flow rate. The filter will eventually need to be replaced and we will return to this review in a couple of years to see how the flow rate changes over time.
The fact that it uses gravity to filter the water means it takes no physical effort and nearly no time, so you can instead direct your focus on setting up camp, while the Basecamp cleans water for you. In fact, it is the very first thing I do when I arrive at my location; I pick out the filter and the container, which I have packed so I can get them out first, and then set it all up so I can have a drink once camp is prepared properly.
The filter itself can clean up to 1500 litres / 330gal of water, depending on the quality of water, and can of course be replaced for about 50€. Katadyn also offer a 10€ shower adaptor that you can attach to the Basecamp Pro, thus converting the filter into a field shower that is sun heated. Very clever indeed.
What does it clean away?
Now, drinking water contains three groups of pathogenic microorganisms:
Viruses like Hepatitis A, Norwalk Virus, Rotavirus and Poliovirus. These are 0.02 – 0.2 microns in size.
Bacteria like E-coli (Escherichia coli), Salmonella (Salmonella typhimurium) and Cholera (Vibrio cholerae). These are 0.2 – 5 microns in size.
Protozoans like Moeobiasis (Entamoeba histolytica), Giardia lamblia (Giardia intestinalis) and Cryptosporidium (Cryptosporidumparvum). These are 1 – 15 microns  in size.
The Katadyn Basecamp Pro uses 0.2 micron Ultra Flow Filter™ pleated glassfiber which is capable of removing bacteria, protozoans, cysts and sediment. Consequently, it isn't capable of cleaning away all viruses, but everything larger is cleaned away. Personally, I use the Basecamp Pro with the already fairly clean, and often already drinkable, waters of Sweden, filtering it just to be safe as any water in nature carries the invisible potential for illness, if near farmland or due to exposure to animal excrement etc.
How is the water?
As mentioned Swedish lake water is already quite clean but can of course have a certain au naturel-taste to it. Having used this filter a fair bit I notice no odd taste to the water. Admittedly the first time I used it, the water had a bit of a chemical taste to it, but after a few uses it just tastes like clean water. Thus far I have had no bad stomachs either, despite drinking a mix of both boiled and cold filtered water throughout all seasons of the year, using both clear and turbid water.
Things to think of
As always there are a few things to think of when using a water filter of this type:
Try to use as clean water as possible. In case of dirty water, filling another container first and letting the dirt settle before filling the water filter improves the water quality and will prolong the life of the microfilter itself.
Make sure the cap is screwed on tightly against the gasket and filter bag. If not, dirty water risks leaking down into the water container.
Putting the outside of the filter bag into water means some dirty, contaminated water might run down the hose into the container. For that reason it is better to fill the filter bag with a separate container like a collapsible water bucket.
Hang the filter high and set the water container low to use gravity properly.
Clean all components and especially the filter itself when you get back. Let them dry properly before you store them away. Not cleaning it regularly means the filter will clog up, drastically decreasing its flow rate.
Some experience serious problems with flow rate and a tip is to suck on the hose first to get things going as air bubbles sometimes appear to slow down the flow rate.
Final words
Having tested this over some eight shorter trips and having filtered more than what I needed for those trips I feel thus far very pleased with the Basecamp Pro. It works quickly and altough its performance in terms of flow rate has distinctly decreased already it still produces plenty of clean water in a short period of time without more physical effort than filling the bag with water and hanging it. For that reason I consider it a great piece of gear to bring along for any overnight trip, both for when going solo or in a group. And it is of course also a great thing to have in your home if you run a risk of not having a consistent supply of clean water, something which is true for most of us, even if we don't like to think of such things.
The Basecamp Pro costs about 120€, but can often be found at far lower prices if you look around a bit.