If you want to go outdoors in all seasons and weather, then good clothing is essential to your whole experience and your comfort in nature. What you need may vary a little bit depending on how you tend to spend your time when you are out, but some things are generally good for all. For me, the trips range from just over the day and light packing to a number of days, from summer to winter, and in Nordic climate & nature. With that in mind, durability, good ventilation, good pockets and completely free range of movement are some of the basic requirements I have.
Now, proper outdoors jackets come in two basic designs; smock or anorak. The latter has its advantages, but I personally find them problematic since they are usually not so flexible in terms of ventilation, especially with your pack on, and they are a also bit awkward getting on and off. So a good smock is what suits my particular preferences. And that is exactly what we are going to look at today; the Leo Köhler KSK-Smock.
For those short on time, here is a quick overview of some of the features, but I highly recommend you read the whole review. This is the first video review from Northern Bush and I apologize for the backlight and the strong wind sometimes nearly drowning out the audio. Will do better next time, I promise.
So, with the quick overview out of the way, let's just talk briefly about the maker; Leo Köhler GmbH&Co.KG.
The company
Leo Köhler isn't exactly the new kid on the block. The company was founded in 1927, in Poppenhausen, Germany and has been manufacturing clothing and uniforms for professionals, including German military ever since, meeting the strict requirements associated with such production. Suffice to say, the company has extensive experience and the name is associated with strong reliability and credibility.
But you are here for the smock. So without further ado, lets go through it, bit by bit.
Construction
The basics of the Leo Köhler KSK Smock are as follows:
50/50 cotton & polyamid fabric, available in 8 different camo patterns, olive and black 
2-way sturdy, quality zipper with wind flap secured by buttons
"Canadian" military slotted buttons big enough to be usable even with gloves on
A small chest zipper so you can access the inside without opening up the whole jacket
Cordura reinforcements and removable padding at the elbows & lower arms
Velcro attachments for patches on chest and left-side sleeve
The fabric comes in a variety of mixes depending on what colour/camo you choose. The Multicam is 50/50 cotton & polyamid, but e.g. the Tropentarn & Flecktarn come in 65/35 cotton & polyamid, and the CCE in 67/33.
The smock is very durable and the impression I have after about a year of irregular outdoors use is that it holds up really well and is very sturdy. Seams look good and strong, if with some left-over threads here and there. The fabric itself doesn't store much warmth, so in cold weather you will need more layers underneath. It is also not rainproof, which is fine by me, since rainproofing usually means less good breathing of the fabric. Of course you can rainproof it yourself.
The Leo Köhler KSK-Smock is offered in simple black or olive, and in eight different camo patterns: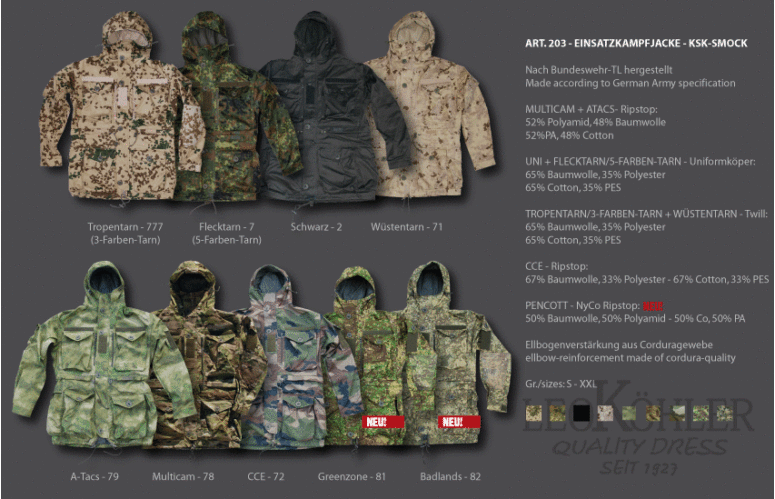 Tropentarn
Flecktarn
Multicam
Multicam Tropic
A-Tacs
CCE
Pencott – Greenzone
Pencott – Badlands
The buttons are slotted "Canadian" military style, fastened to inch-long straps, meaning they have some play. They are also big enough to allow managing even with work gloves on, which is fantastic. Now some prefer zippers or velcro, but especially the latter is noisy and I personally really dislike it on an outdoors jacket. While not a hunter, I do enjoy fishing and photography, and that velcro noise is just a big no-no. Even worse in the silence of night, where such sounds travel a fair distance.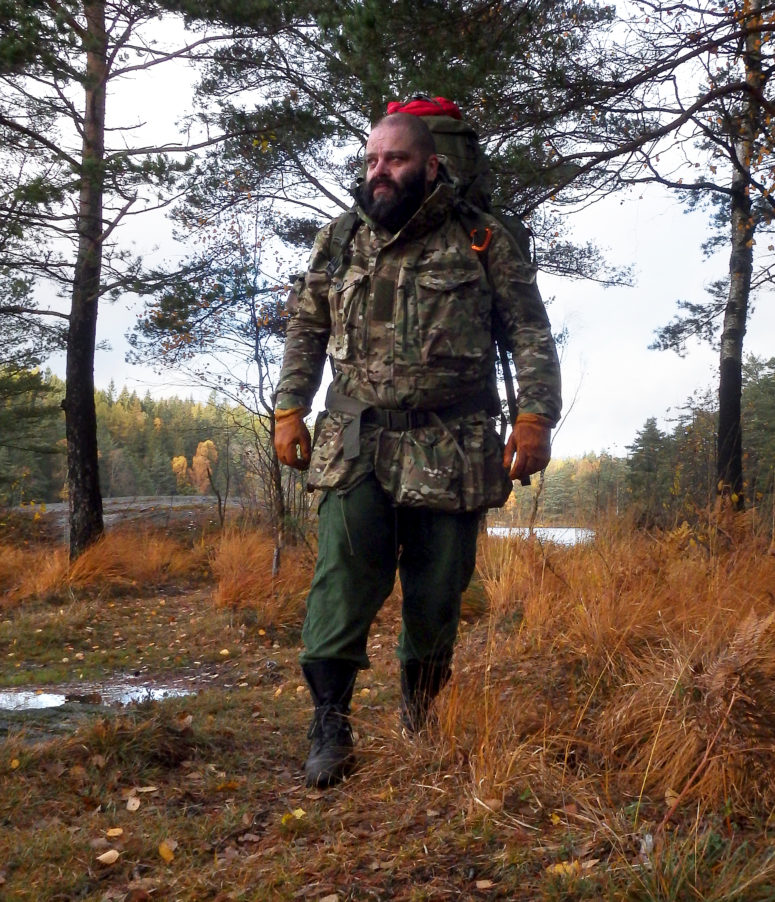 The two-way zipper is, as expected, of great, sturdy quality and, obviously, goes both ways, meaning you can ventilate the smock by pulling the dual sliders up or down, depending on what you need. Likewise, you don't have to unzip the whole jacket to reach inside and access something in the waist area. You just unzip from below a bit. The zipper is also, again as expected, covered by a wind flap which is secured with the same type of buttons. In Fall and Spring I often just button one of these, so the jacket keeps a suitable temperature but keeps tight.
The attention to detail is apparent in many features of this jacket. One such example is the small chest zipper which gives you access to the inside pockets, or e.g. your neck knife, without requiring you to open up the whole jacket. In windy and nasty conditions this is just fantastic.
The cordura reinforments on the elbow and lower arms is great for any hunter who gets down on the ground, but is of less value to me with my particular needs. A good addition regardless though, as is the removable padding.
Finally you can also attach various patches onto the chest and the left sleeve, which I know is important to some, for various reasons.
***
Quite importantly for a jacket to be comfortable, you need to be able to adjust it well to fit your body, so you can move freely, upright or in various less-comfortable working positions. So how is the Leo Köhler KSK-Smock in that respect, then?
Adjusting for fit & heat
Shortly put, it is quite fantastic in how flexible it is. The core features in this area are:
Long 2-way ventilation in the armpits
Bendable wire inside the front of the hood
Draw string & velcro strap for adjusting the hood size. The latter can also be used to roll up the hood
Draw-string waist adjustment runs in its own external channel and adjusted from the inside
Draw-string adjustment to tighten the bottom to keep warm air in.
Velcro adjustment for sleeve cuffs
Quite often as you move about and work outdoors, you will get quite hot, even in wintertime, and some of the body heat that is generated has to be ventilated. This is often a problem with both rainproof fabrics and anoraks that don't ventilate well. The Leo Köhler KSK-Smock however is quite excellent in this respect.
The armpits have quite long dual-zippers, extending from your "true" waist to the middle of the upper arm, meaning you can open it up from the top or bottom, allowing you to regulate your temperature quite well. Likewise, the buttons on the front means you can just fasten them without zipping up the jacket, for further ventilation.
The hood offers good sideways vision and can be adjusted both with the bendable wire string on the front, as well as the draw string and the velcro flap so you can keep it tight, for optimal wind protection and vision. The velcro flap can also be used for securing the hood when it is rolled up.
The waist adjustment runs in its own channel on the outside and can be adjusted for a tight fit, and good heat preservation, with a draw string on the inside. This works quite well since adjusting it is usually done only rarely. The bottom linning of the smock has a draw string so you can tighten it and avoid cold air blowing in and warm air from leaking out.
The sleeve cuffs are adjusted with velcro and while I am not a fan of velcro because of the noise associated with it and because velcro tends to wear out quicker, it still works well. I don't adjust the cuffs much anyways, so the design is quite good and should suit most people.
***
So, with adjustment features out of the way, let's turn towards the practical aspects of the smock.
Storage
This is the area where smocks really shine over simpler outdoors jackets, and it is the whole reason why you should consider getting one if you are serious about spending more time outdoors. The great storage capacity of the smock means you can carry a lot of gear on your person instead of in a pack, which also means you will both have easier access to things like fire tools, gloves & cap, first aid, binoculars & cameras, and knives etc, and you don't need as big a pack with you either, as you save some space by carring quite a bit of gear on you.
So, what does the Leo Köhler KSK-Smock offer here? Well, quite a bit actually. 15 pockets in total, to be exact:
8 large pockets in the front, secured by buttons and with D-rings inside
2 sleeve pockets
2 large inner pockets
One large butt pocket in the back
2 Inside butt pockets where you can put e.g. insulation for sitting down in the cold
The front has a total of eight quite large pockets, four pockets at the bottom, all secured with the Canadian buttons and with D-rings inside which you can secure various items to, and two more such pockets on the chest, with two huge zipper pockets inside of them, as large as your upper chest, covering from your shoulders down to your true waist, all the way to your side. The jacket also has two large inner zipper pockets, which is great for wintertime, especially if you need to keep some things warm to avoid it freezing up, like e.g. a lens box. All of these pockets can be used quite easily even with the waist belt of your pack locked around your waist, which is great.

The D-rings deserve a special mentioning. Some might think they are a bit of useless extra feature, but I am very happy seeing these included. First of all they are of course good for securing things so they don't fall out of your pockets. However, more importantly, they are placed so I can hang things from my chest, attaching things to the D-rings with carabiners. This way I have super-easy access to my knife, my flash-light and my camera. It is absolutely awesome and I just can't praise it enough. Simply fantastic.
On the butt, there is one large outside pocket, secured by three Canadian buttons, where I tend to put my map. On the inside there are two large open buttons where you could put, e.g. some insulation so you can sit down even on cold ground. Depending a bit on how the jacket fits you and how you have adjusted the waist, that insulation will just about cover your butt, but not your thighs. For fixed camping that is actually quite practical. You can of course also use them for carrying things in, but they are less practical for that as they aren't accessed easily and they are not secured at the top.
Furthermore, the jacket also has two sleeve pockets. Personally I find these of less practical use as they are a bit uncomfortable to use, but I am sure there are people who disagree.
Final words
I have tried quite a few jackets, smocks and anoraks and this, without hesitation, belongs to the top shelf of outdoors jackets, easily rivalling some brand jackets that cost twice as much or more. The flexibility, fantastic storage capacity and well thought-out design in all details, alongside of the quality of fabric, zippers and buttons really fits perfectly with my needs, and works well regardless of whether I am out for an extended period and carry a heavy pack, or just out for a short excursion over a day. I can't really think of anything I would like to change here, apart from perhaps the cuff velcro, but that is a very minor thing. Perhaps one or two more D-rings on the chest, just because I love them so much.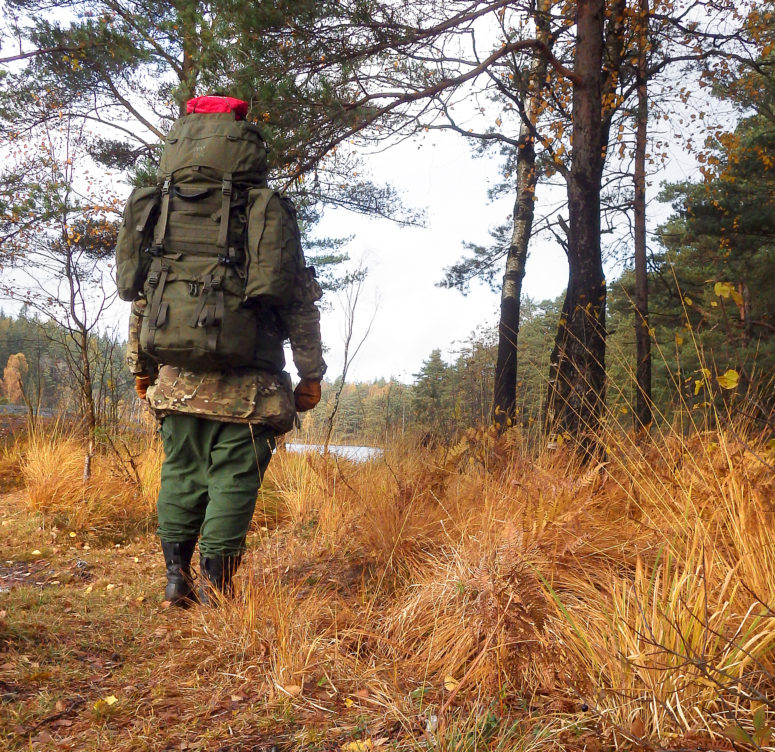 So in conclusion I find myself, a bit surprisingly, with little more to say than that I gladly and with great enthusiasm recommend everyone to consider getting one of the Leo Köhler KSK-Smocks. I think it will satisfy the needs of most outdoors people, regardless of how you spend your time in nature. Thus far, it has worked the best for me, of all the ones I have tried, and I will certainly get another one, once I have worn this one out, which I don't expect to happen anytime soon.