This article was originally published on HROARR.com
Among the countries of the world one stands out as truly blessed with excellent knife makers manufacturing big utility/combat knives. Why that is, is hard to tell. Size is of course one factor, but perhaps also a generally high living standard combined with a still fairly common need for the knife as a tool, both for utility and for soldiering. Maybe even combined with romantic ideas about the early days of the nation with Davy Crocket and Jim Bowie, with the WW2, Korea and Vietnam wars and surviving in harsh conditions and in parts just tied to a certain common love for weapons. Or all of the above, or something completely different. Fact remains the USA delivers some pretty amazing and beautiful knives, designed to take a serious beating and still keep on working.
Today's knife and knife maker is one of those, a cutler with a long standing tradition and a name that brings connotations to quality and durability, namely Ontario Knife Company. The knife however, while drawing from tradition, mainly the classical USMC Mark 2 Combat Knife and similar knives, is a quite modern knife more aimed at soldiers and perhaps even more so the survivalists and preppers market groups, although certainly usable to others as well. It is about as far as you can come from small bushcraft knives, and instead a beast of a knife designed to be able to take on some of the most demanding tasks you can submit it to.
Background
The whole region of Western New York and Northern Pennsylvania has a long history of knife making starting more than 200 years ago when a group of cutlers from world-renowned cutlery centre Sheffield, England ((Sheffield itself is a historically famous centre for sword & knife making going all the way back to the early 1300s, as noted by Chaucer in his Canterbury Tales. From the 1600s and onwards it was the main cutlery centre in England next to London. Defoe in his A tour thro' the whole island of Great Britain describes it as "This town of Sheffield is very populous and large, the streets narrow, and the houses dark and black, occasioned by the continued smoke of the forges, which are always at work: Here they make all sorts of cutlery-ware, but especially that of edged-tools, knives, razors, axes, &. and nails; and here the only mill of the sort, which was in use in England for some time was set up, (viz.) for turning their grindstones, though now 'tis grown more common." While originally designed by Jim Bowie in December 1830, already in mid 1800s Sheffield was mass-producing their notorious Bowie knives shipping them to the United States. Even today Sheffield is renowned for its cutlery making and the original Fairbairn-Sykes WW2 dagger was manufactured by Wilkinson Sword Ltd and H.G. Long & Co in this city. Furthermore stainless steel was invented in Sheffield in 1912 by Harry Brearley. Pooley Sword of Sheffield are still the leading cutler of swords, dirks and lances to the British Armed Forces, having taken over much of the drawings, spares and machinery from Wilkinson as the latter decided to cease the manufacture of swords in 2005. See also http://www.youtube.com/watch?v=zpeyhC-UIFg)) joined together in small knife factories in the area, especially around Little Valley and Cattaraugus. At one time more than 30 knife companies populated this fairly small area. Even today many cutlers still remain in the Olean, Franklinville, Springville, Bradford and Ellicotville areas with several, one way or another, tracing their roots back to these cutlers, with companies like Cattaraugus Cutlery, W.R. Case & Sons, Union Cutlery, KA-BAR & CUTCO, Robeson, Empire State Cutlery, Western Cutlery & Camillus, Utica Knife & Razor Co & PAL Cutlery, just to mention a few.
The story of the birth of the OKC  is a bit fuzzy today, but it seems clear, at least, that three men, William B. Ensworth, Charles Albert Brace and William Maudsley were part of starting up the company in Naples, New York in 1889. The name was derived from Ontario County where they were situated.
After having grown healthily, although not without hard work travelling the region to sell their knives off of pushcarts, they settled down in Franklinville in 1902 and were incorporated the same year under the current name.
In 1904 another local knife maker, Empire State Cutlery purchased a majority of the stocks and proceeded to join the two companies under the Ontario Knife Company name. The new building into which they moved in 1914 is still in use by the company. Franklinville today is still very much a smalltown with just above 3100 inhabitants in ca 1200 households. OKC has grown well beyond it's town borders though.
In 1971 OKC bought Robeson Cutlery, one of the original makers of the USMC Mark 2 Combat Knife, and with this fusion of brands OKC is the only cutler to have an offical contract with the US Marine Forces to deliver this particular and very classical type of combat / utility knife.
Today OKC is mostly known as a supplier of military knives and through WW2 and onwards they have supplied the US military with combat knives, such as the M7 bayonet, the USAF Survival Knife, the M1942 Machete, the Navy MK3 MOD 0 diving / survival knife, the M9 bayonet, and most recently, the USMC OKC-3S Bayonet. OKC  is also contracted to build the Aircrew Survival Egress Knife (ASEK) Survival Knife System, chosen by the United States Army to be included in its Air Warrior Equipment System.
Outside of their military line up OKC also offers civilian knives intended for rough use, targeting hunters and woodsmen with a preference for military style knives. Their design is often quite pragmatic, even minimalistic, with a clear focus on utility rather than looks, which of course also is a looks many prefer. Parts of this lineup overlap the military range and their RTAK, the TAK-1 and the RAT-7 have all been adopted by the US Military. It should be noted though that several of these were designed by RAT Cutlery ( today called ESEE) and manufactured and retailed by OKC.
On top of this OKC also produces a large range of other types of cutlery including kitchen cutlery, industrial and agricultural products and sci-med scientific tools and instruments. In total, OKC sells their products in 28 countries around the world.
After a period of some controversy concerning RAT knives, designed by RAT Cutlery and manufactured and retailed by OKC, and related issues regarding quality and quality control, OKC now appears to be back on track again and since a while back is manufacturing knives of very high quality again.
In short, OKC has a century old tradition of producing knives for professionals and a proven track-record in their field for delivering quality products well designed for their intended purposes, be it soldiering, survival or special utility.
The OKC Chimera
For its 125th anniversary OKC decided to introduce a new tactical/combat knife designed for extreme situations. As previously mentioned, it was to draw from their long experience in designing knives for the military but should also be a modern knife, designed for the particular demands put on it in a modern setting, be it in the wild or an urban setting. In the words of Kenneth Trbovich, President and CEO of OKC:
The OKC Chimera is an important piece in the broad array of new products Ontario Knife has planned to release during our 125th Anniversary year. We are taking Ontario's long and storied history and harnessing its experience to drive us forward into a new era.
Or as Robert Cass, OKC Director of Special Projects puts it:
The OKC Chimera represents an evolutionary step, a survivor; the top of the food chain.
So, with those words in mind, what is this knife really like? How does it succeed in the goal of celebrating 125 years of knife making tradition?
Product data
Manufacturer: Ontario Knife Company
Manufactured in: USA
Material: Phosphated 1095 Carbon steel & Kraton grip
Hardening: HRC 54-56
Blade length: 20.3cm / 8in
Blade thickness: 0.5 cm / 0.2 in
Full length: 34.9cm / 13.75in
Tang: Full
Weight: 441 gr / 15.55oz
Sheath: Black Kraton & polypropylene with ceramic rod sharpener
Sheath weight: 220gr / 7.75oz
Warranty: Lifetime Limited ((The OKC Warranty states: "Ontario Knife company® prides itself on 125 years of quality manufacturing. OKC products manufactured in the United States are backed by a limited lifetime warranty; if any of our Made in the U.S.A. products fail due to faulty workmanship or faulty materials, we will repair or replace it free of charge with the same item or an item of equal value. The workmanship and materials of OKC International and globally sourced products are backed by a one year limited warranty. All warranties exclude products subject to abuse, misuse or neglect."))
MSRP Price: $149.95 / 110.52€
With the numbers out of the way I will again let Robert Cass of OKC introduce the knife himself with the following 90 second video.
Grip & Hilt
The hilt construction is similar to that of a traditional USMC Mark 2 Combat Knife ((The so called "KA-BAR")), but with some specific improvements drawn from their experience in creating the military Aircrew Survival Egress Knife (ASEK). The phosphated D2 steel pommel is octagonal in shape and has both a lanyard hole as well as a pointy glass breaker for smashing car windows etc. Keeping the knife in the sheath you can grip it and use the pommel for hammering things, although the fairly small hitting area also means you will need to do it quite controlled or you risk damaging your grip.
The straight and quite sturdy finger guard has holes to enable attaching the knife to a staff or stick, so it can be used both for spearing as well as for reaching farther, for instance to cut down fruit.
The grip itself is of a now quite old and traditional WW2 design, although upgraded to modern standard with Kraton, a synthetic rubber mix that provides quite good grip even when wet. It covers the whole tang which is great in particular for us living in colder climates where touching steel is not desirable.
Blade & Tang
The general shape and design of the blade borrows from the Ontario USMC Multi Purpose Bayonet (OKC-3S), but with a different shape to its serrations.
The blade is made out of 1095 steel ((The "95" part of 1095 stands for a 0.95% carbon content in the steel. Carbon is added to make iron stronger and more durable thus turning into "steel", but also causes it to rust and can cause it to become more brittle.)) which currently is the most popular steel used for knife manufacture, due to its qualities and price. This steel has been used for KA-BARs ever since WW2 and it holds an edge quite well, while still being reasonably easy to sharpen. That said, I have found it a bit tricky to get a really keen edge using a larger field sharpener ((A Fällkniven DC4)). Unfortunately, from my Scandinavian perspective, it is not stainless, which means you will need to take more care of it. The blade has a phosphate covering designed to prevent rust a bit but it will wear off with use and proper maintenance is required more and more as time passes.
The hardening of the steel is at 54-56 HRC which is typical of the knives OKC delivers to the US military.
The knife is of course full tang with the blade sharpened with a double bevel and distinct and sharp serations. A small non-sharpened area is also saved in front of the finger guard so the index finger can be placed there for further control, but such a grip isn't very comfortable. Still, it is possible and works.
The forward part of the knife has the spine sharpened somewhat, which means you get better penetration at the cost of strength, but durability tests have shown that the blade holds up quite well still, without damage even when  prying deep into frozen wood as can be seen in the following video.
The blade is actually the longest of the combat/survival knives I currently have at my disposal. It really is a beast of a knife which has its advantages and disadvantages. Serrations are red flag for many as they detract from a knife's usability for many that just don't have a use for the sawing aspect of the blade that people that need to cut nylon and rope do. With this knife too I personally feel the same as it just isn't very useful for me when working with wood. However I can certainly see how they can add to the blade's function, especially for the urban survivalist group where breaking glass and cutting tough nylon and wire could theoretically be important, more so than carving of wood.
Rumour has it though that there are thoughts on offering this knife with a non-serrated blade too for those prefering their knives such. For me personally that would make the knife a lot more useful.
The blade has received some criticism for not being properly factory sharpened thus needing a bit of sharpening when received and that is true for the knife I received too as the blade didn't quite bite the way I like it to, but to me that is not a huge issue. Sharpening a knife is easy enough to do and it even comes with an included sharpener. To a degree it is also a matter of personal preference.
Sheath / Scabbard
The sheath is actually one of the neatest designs yet of the knives I am examining. It serves its purpose quite well, with simple solutions to some practical needs. For me the two most important requirements for the sheaths are that the knife stays securely in place, preferably even when the retention strap isn't secured, and second that I can easily and quickly pull the knife out of the sheath when I need it, using one hand only. This is surprisingly something which many manufacturers fail in delivering.
In OKC's case though I am happy to report that this is not the case. The sheath fulfills those two reasonable and basic requirements perfectly. It is perhaps not so surprising as the blade design made it natural for OKC to use the same sheath design that is used for the OKC Marine Corps OKC-3S Bayonet mentioned earlier. Consequently it is my favourite sheath yet, despite me generally prefering leather over hard synthetic sheaths.
The sheath is made out of Kraton and Polypropylene and is naturally M.O.L.L.E. compatible so it can be easily fitted to the standardized military webbing of harnesses and packs, fastening it hanging at a belt, upside down or horizontally, according to your needs and preference.
The sheath also comes with an included ceramic rod sharpener incorporated into the hard sheath and protected under the nylon webbing. The bottom of the webbing is flexible and can easily be pulled off of the hard sheath.
The rod fits the serrations on the edge quite nicely, thus making it quite easy to sharpen. However, I would reserve that sharpener for situations where I have no other alternative, as it is still easier to use a separate sharpener. It is a very nice feature though and highly appreciated.
Inside of the sheath there is a metal clip that presses the blade in place and that is both a great feature and a bit of an issue as that metal wears off the coating of the blade. However, I much rather have that clip in place than not, despite this small issue.
That said, even with this metal clip inside the sheath, the knife can wiggle quite a bit, especially if you wish to hammer with the pommel, something I wouldn't be doing much of anyways and thus don't see as an issue.
Handling
Given its length, weight and looks it is a surprisingly agile blade in hand, probably due to the quite substantial pommel. It still has enough presence to be capable of handling even quite demanding tasks. It is not a great chopper though, as seen in the clip below where it is used for chopping into frozen wood, one of the toughest daily tasks you normally submit a knife to.
Non-frozen wood however, is of course easier, but the sharpened swedge, ie the beveled forward part of the spine, clearly makes it less usable for chores like chopping and batoning wood, and better suited for stabbing into various things, which doesn't come as a great surprise given the blade's roots in the USMC OKC-3S bayonet design. So, if bush chores like heavy chopping and batoning is important to you, then it is a better investment to buy something from their Special Plus Gen 2 Range of knives, like the SP50 Spearpoint Bowie, their SP43 Bolo or their SP45 Golok Machete.
The grip itself is quite large, even larger than a regular KA-BAR, meaning my normal-sized hands don't cover the last "washer" of the grip. The grip is slightly oval, which is good for edge orientation. The finger guard and the length of the grip allows for holding the knife in any way desirable, both hammer grip, icepick, thumb-against-the-guard or thumb-against-the-flat grip, even extending the index finger over the guard is doable.
Maintenance & Durability
The steel used is of good quality but not one of the modern, extreme variants that are growing more and more popular. In this case I think it is a good thing, as you don't need any special ceramic or diamond sharpener for the knife. Edge retention might not be as good as with say D2 steel, but sharpening the knife is easy enough to do and it is what I personally prefer.
Ontario has long experience in manufacturing knives of military quality and despite the dip  the company appears to have had about six years ago I would be surprised to see this knife not holding up to even above normal use, by that not including knife throwing, digging stones out of the ground or stabbing through car doors etc. Regardless, if such a thing should happen, I feel fairly confident that the lifetime warranty covering normal use would help.
Final comment and price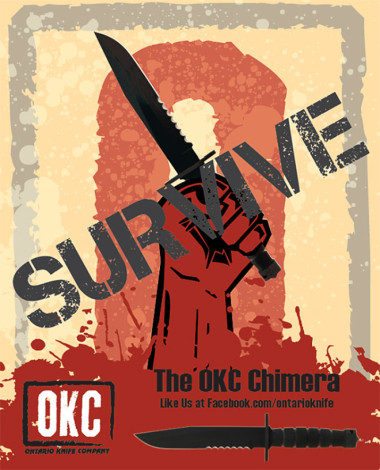 Some might hate it while others will love it. Really though, it all depends on whether it suits your own particular needs. For me, with the most common needs I have for knives in the woods, it isn't something I would bring with me for every day use, but I would feel quite happy adding it to a Zompoc "Bug Out Bag" if I was ever to put together one, especially for an urban context, and it should make the prepper section of the knife market quite happy, especially if combined with a smaller knife e.g. the OKC Blackbird or a RAT/TAK knife. Likewise, soldiers with less need for carving or chopping wood may find this a good combat knife.
With its 125th anniversary in mind it really is a quite nice embodiment of several different principles learned through long  and extensive experience, expressed in different designs for military knives, primarily that of the USMC OKC-3S bayonet and the Aircrew Survival Egress Knife (ASEK) Survival Knife. While it doesn't suit everyone I think it is a quite nice knife for its particular niche.
Considering the brand, the quality and fitting of the knife, the price is very fair and reasonable, not least since you can also find them at even lower price at various vendors, for as little as 80USD if you are lucky, which is a pure bargain.
References