Although I have worked as a commercial photographer with various system cameras as well as VR photography kits, this is not the angle I will be writing from today. Instead, I will be writing from the perspective of an outdoorsman with the particular considerations that come from that, with regards to needs and requirements.
One great issue with professional camera setups is the fact that they are bulky to lug around, and for an outdoorsman who commonly already carries a lot of gear, adding several camera bodies and lenses simply isn't a great prospect. Not only that, but system cameras are also complicated to set up, involving use of various expensive and fragile lenses, and a camera body vulnerable to dust and dirt, all in all more suitable for studio photography. While that is just something you have to accept if your ambition is to be a professional nature photographer, for most of us that is overkill and impractical for what we mostly need; something easy and accessible that we can use to document interesting, fascinating, beautiful and frightening experiences in the wild, preferably without fear of breaking the camera if we should happen to drop it onto rock or into water or mud.
So we need something durable, compact and light that is easy to pull out and snap quick shots with. In these days where everyone is carrying an easily accessible smartphone several of those needs are already met by those, but adventure cameras offer considerably more, not least in terms of durability and versatility, and at a quite decent prices too. Is that enough to motivate purchasing an adventure camera? Yes, I think so, and I will try to explain why.
First however, let's have a quick look at its physical design and data. It comes in two colours; gun metal and orange. The coloured front is made out of metal, with rugged plastics protecting the sides from impact. At the top we find the green-lit power button and the shutter button. Six LED lights surround the lens, and an included plastic macro stand that lets you to put down the camera on a flat surface for 1cm macro shots can be attached here. The front of course also has a flash, but also a small LCD display showing the time and other data. Finally, the microphones and remote control receivers are also placed here, right below the LCD display.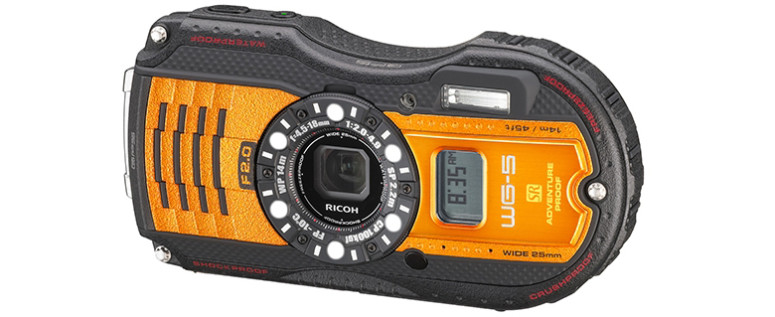 As expected, the back is mostly covered by the display. At the top we find the zoom button, below that the play/display button and the red quick record button, which also serves a few other roles, like setting the shutter speed in some modes.

The big circular button is the multiple choice button used both to navigate the various menus, but also for quick access to, e.g. focus modes, flash settings, programs, timer and more, and in the middle of it is the "OK" button used to confirm choices, but also to access e.g. exposure analysis and compass. At the bottom, finally, we find the menu button and the green button of which the latter is used for temporarily setting the camera to standard mode and for deleting images, but which can also be assigned to other functions, e.g. frequent actions.
At the bottom left we find the water-sealed hatch for battery, SD card, HDMI port, the USB/AV port, and on the right bottom side; the speaker. On the side you can see the strap lug where you attach the included carabiner strap.
With the outer design out of the way, let's have a brief look at the physical data and basic features.
Data & basic features
Dimensions: 12.5 x 6,45 x 3.2cm
Weight: 236g (with battery and SD card)
16 MP Back-illuminated CMOS sensor and Full HD Video
Waterproof to 14m
Shockproof to 2.2m
Crushproof to a pressure up to 100kg
Coldproof down to –10°C
25mm Wide-angle and 4X Optical Zoom lens
Equivalent 35mm : 25 – 100mm, large aperture F.2 (W)

Macro shooting down to just 1 cm
ISO125-1600
6 LED placed around the lens to avoid shadows on macro photos
25 min video shooting
Inbuilt clock with date
Electromagnetic compass with GPS data
Digital spirit level
Standard mounting socket for tripods etc
Full range of outdoor accessories available for purchase
Those numbers and data, while intriguing for some of us, won't say much to the general outdoorsman or adventurer. So with that in mind let us return to the earlier mentioned considerations for this target group in particular.
Accessibility & handling
When it comes to needs of accessibility for an outdoorsman this camera meets all the requirements. The camera comes with a strap and an ultra-light carabiner which makes it perfect to hang from the D-loops or the webbing on the harness of a backpack. Oftentimes you won't even need to unhook it to take pictures as you walk, since the carabiner strap is long enough if you hang it from your shoulder area.
The outer shell is strong and it can take a fair bit of beating, meaning you don't have to worry about carrying it openly when hiking around. The fact that it has no lens cover is a small matter of concern though, as that means you shouldn't carry the camera without at least a softcase, or run the risk scratching or breaking the lens on something hard.
The fact that it is waterproof means you don't have to worry about bad weather, as rain or damp won't affect its performance and consequently you can carry it around in almost any weather, provided it doesn't go below -10°C. In colder weather you will have to carry it inside of your jacket.
The power and the shutter buttons are quite slim in profile, to avoid causing them to be pressed down unintentionally while carrying. This means it takes a little extra effort to manipulate them if you are wearing thin gloves, compared to the other buttons. Without gloves, the buttons provide good tactile feedback and grip, which is handy in low light conditions.
Startup, setup & menu speed
Another hugely important requirement for this type of photography is to be able to use it quickly when the opportunity for a good shot presents itself. Consequently, starting up the camera, and setting it up correctly needs to be fast and easy. Generally speaking, this system works very well. Turning it on is fast, and while not instant it just takes an approximate second to be ready to take an automatic picture.
Zooming however is somewhat slow, but has to be since it is electronic and not manual. Here a system camera is quicker with its manual zoom rings. It's a trade-off, but the advantages clearly weigh in favour of this type of camera for most uses.
Switching to specific focus modes like Macro, Macro 1cm, Landscape, Panoramic or Manual focus is just one menu click away, using the multifunction button. It would have been nice if the automatic and manual modes had included the Macro and Macro 1cm modes too, but it still works very well so that is just a minor thing.
Versatility & durability
This is an area where this camera really shines. The previous two discussed areas, combined with the design of hard- and software makes this camera very useful in many different situations. It is waterproof to 14m, shock proof to 2.2m, crush proof to 100kg and cold proof to -10°C, all making up for a tough and mean little camera that can be brought into fairly rough conditions without concern for harming it. 
While not as capable as a full system camera with large lenses, it still has a decent 4x zoom. Its great capacity for macro photography, as close as only 1cm is incredibly fun and rewarding in use, opening up a whole new world. The six LED lights surrounding the lens guarantees great shots with little disturbing shadows.
Likewise, the fact that it is designed for underwater shots too, opens up a wonderful world full of life that you might not even notice while swimming in the ocean.
Software
The software in many digital cameras today is fairly complex, trying to combine both semi-professional control over settings with ease of use for the amateur and this camera also aims to serve both those needs. Light & exposure measuring and focal points can be set to point, section or full picture. Advanced features like face recognition, eye blink detection, shake reduction, combined shots, auto-bracketing and over/under-exposure warnings make the camera easy to use for many different circumstances.
The camera has automatic, semi-automatic and pre-set program modes designed for specific circumstances like fast moving objects, macro, extreme macro, landscape, night, snow, portrait, flower, food, fireworks, underwater, interval sequence shots and more. These programs make it perfect for use in various demanding environments, pre-set already for environments like snowy mountains, diving underwater, taking pictures of fish in streams, night-time wildlife, bugs and plants at close distance and more, while continous shooting and burst shooting makes it easier to get that great shot of fast moving objects. For portraits, or for shooting outdoors movies of yourself, the self-timer and the remote control features are naturally very useful. Some of these allow you to manipulate certain settings, but there is no option for full control over both ISO, shutter and aperture. The latter is completely automatic.
Of course you can also shoot movie clips, even for slow motion replay or time lapse movies.
The camera comes equipped with a 4x optical zoom which works very well within its range. It also has a 28.8x digital zoom on top of that, but to me that is a useless feature as it basically just crops and stretches a part of a larger image, something you can just as well do in Photoshop without losing all the other data in the image beforehand.
The software includes a digital spirit level indicating both vertical and horizontal angle, helping you to get a perfectly horisontal shot with two red bars in the right side of the display. This is an excellent feature, especially when outdoors as you often end up in odd, uncomfortable positions, crawling on the ground or leaning into crevasses or shrubbery, extending the camera away from you. This spirit level doesn't adapt to holding the camera vertically though, which is a slight oversight software-wise.
Accessible through the "OK" button, the camera also has an electromagnetic compass & GPS and that data can be recorded with the image. This is another great feature, but it will drain your battery quicker so use it with care and bring a few extra batteries.
Good to know is also that the display can be turned off using the OK-button. This puts the camera in a kind of "stand by" mode, meaning it is quicker to start up than when completely turned off, already prepared with your settings, instantly ready to shoot after pressing the OK button to turn the display on again.
Power consumption
As expected, only offering the full display for reading and changing of settings, the camera drains a lot of power. Shooting pictures for a day means you will be out of battery by the end of it, having to replace it with extra batteries. This means you have to be conservative with use, if you plan on staying away for several days. Having the GPS turned off and making sure to turn off at least the display when moving around, preferably the whole camera, will help preserve power. Still, bringing extra batteries and a charger with you is a better alternative if you really want to do a lot of photography.
Photographic results
The standard photos are nice and even in contrast and color with no issues with over- or underexposure. This can give a certain false impression of blandness, but is in fact a good thing, much like "flat" speakers are for professional sound studio work. The camera provides excellent and sharp raw material which you can then do afterwork on in digital photo editing software like Photoshop. That kind of work is an integral part of modern photography, just as darkroom work used to be for analogue cameras earlier.
While the raw results is often decent, a slight bit of tweaking makes the photos really "pop". Here are a few comparative shots of before and after tweaking. It should be noted though that the underwater shots below were taken without scuba gear, making it difficult to get the settings right.
As can be seen, the original shots are quite decent, but just a 1-minute tweak makes them stunning.
Oftentimes however, especially in good lighting conditions, the images are stunning even raw, as seen for example here.
Also, it should be noted that the camera also has settings for sharper exposure and higher colour saturation which can also be adjusted to your preference. Still, just a tiny bit of post-tweaking of exposure and saturation adds that little bit of oompf that makes your photos truly memorable.
And some more examples….
Final words
First I will comment on some minor quibbles I have had during the time of testing. And when I say minor, I really mean minor. None of them would make me hesitate the least bit when considering this camera, this said based on experience in using this camera for a fair bit of time in various rough conditions.
The fact that it lacks a lens cover is a bit surprising considering the environments and contexts it is designed to be used in, and although the glass that protects the lens seems strong and scratch resistant, it still feels wrong. Still, a cheap and simple softpack solves that issue. However, that unfortunately adds an unnecessary element to the accessibility aspect, meaning I lose time in those urgent situations where I try to take pictures of wildlife that suddenly appear.
Initially I found the shutter and power buttons surprisingly hard to press down, and while the latter button wasn't a problem, the former was actually an issue as that made single-hand shots difficult. As I was forced to press hard, that put a strain on the hand which caused me to unintentionally twist the camera just when the shutter opened, thus changing the angle of the shot. With time however, it seems as if the buttons have become less difficult to press down and the issue is no longer noticeable.
The 25 minute limit for the video is the only real issue I have, as I would have liked to be able to shoot for example lectures in a single shot with it. It is a limit and not much to do about it but to accept it and work with it in mind.
But enough with the quibbles… There is so much to like, so let's turn to that and finally wrap things up.
The great durability and the versatility make this camera a whole lot of fun to bring along on hikes and I am very, very happy with it. It is pretty damn great considering its performance vs price. Regular nature shots turn out very nice, especially if the light conditions help you with colours, but the real fun lies in the things you can do that regular cameras can't. Macro and underwater photography is great fun and you can achieve quite mesmerizing results although I haven't experimented enough with underwater shots yet. The slow-motion and the time lapse movie features can likewise create great results with lots of option for experimentation, for the creative outdoorsman or adventurer. The self-timer and the remote control features mean you can use it to shoot clips of yourself on solo hikes too, which is great for all you bushcraft video bloggers.
The fact that it is waterproof also has another great benefit in that it is easy to clean if it gets muddy or dusty. Simply just clean it with water and you are good to go again.
The good range of accessories with various mounts, finally, opens up for different types of recording contexts, be it mountain biking, trail running, hiking, kayaking, river rafting or scuba diving.
At the time of writing, the camera can be had for about 200€ which really is a bargain considering what you get.